Student Housing Market Highs & Lows Can Create Occupancy Issues
Student housing has been an increasingly lucrative real estate sector over the past 20 years. As of January 2020, there were over 22 million students enrolled in colleges across the United States. Accounting for roughly 6 percent of the total U.S. population, this is a huge market segment that real estate investors could not ignore.
But as any student housing property manager knows, with amazing opportunity comes increasing competition. The student housing landscape has become increasingly crowded in recent years. Property marketing managers in the student housing sector must compete on many fronts including convenience, amenities, privacy, pricing, and space.
In addition, tenant turnover is particularly high in student housing markets. Students are often only in college for a few years and move frequently during that time. Recently, leasing managers have also faced market changes due to an increased shift to online education.
How can student housing property managers maintain and even increase occupancy without resorting to rent reductions and concessions that damage their bottom line?
---
Benefit From Our Expertise as We Share Tactics That Are Proven To:

INCREASE BRAND AWARENESS & RECOGNITION
ATTRACT MORE QUALIFIED APPLICANTS
MAINTAIN MARKET SHARE
OPTIMIZE LEASING OCCUPANCY
---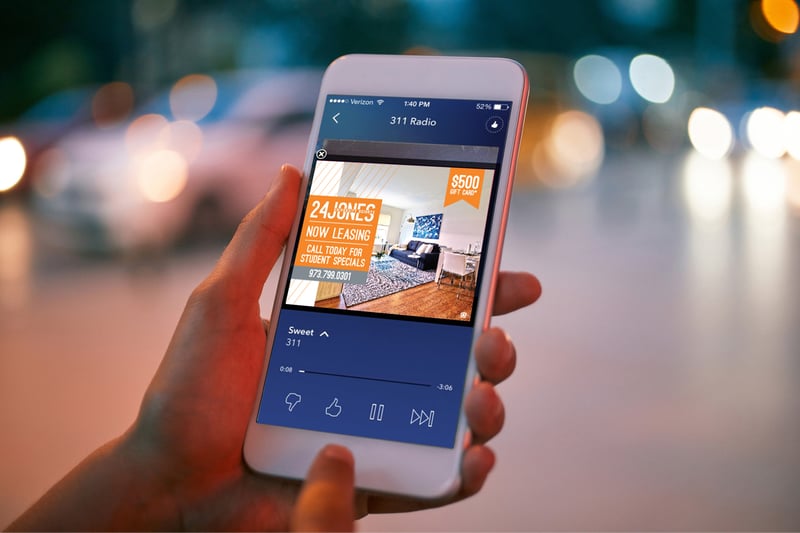 Property Marketing is the Key to Increased Occupancy in the
Student Housing Sector
Regardless of shifts in the market, a great many students continue to need and desire housing that allows them to live the vaunted college lifestyle. To reach their target audience and push aside the competition, student housing property managers must advertise.
Properly designed property marketing strategies enable leasing managers to reach their occupancy and marketing goals efficiently and effectively.
Leasing managers can't just try real marketing strategies and advertising tactics at random and expect them to succeed. And a simple on-premise sign no longer cuts it in today's increasingly digital world.
To obtain real results when performing property marketing for the student housing sector, you need a properly designed full-funnel integrated marketing strategy with crystal-clear marketing goals, a well-defined target audience, and a thorough understanding of your buyer's journey from awareness to action.
Begin with the basics: What is a student housing property marketing campaign?

Enhance the Management Company's Image + Elevate the Property's Brand
in order to
Attract and Engage Qualified Leads + Maintain Market Share + Increase Occupancy
---

A Results Driven Property Marketing Approach Solves Student Housing Leasing Occupancy Issues
A systematic, full funnel, integrated marketing approach delivers data-backed results. MSS Media, Inc. student housing leasing campaigns drive website traffic, increase leasing applications, and improve "heads on beds" numbers. And now we're sharing our proven real estate marketing blueprint with you!
Integrated Marketing for Student Housing:
Awareness (Branding & Design) + Leasing (Conversion) Campaign Initiatives
& Traditional Campus Marketing + Digital Marketing Tactics
= Leasing Occupancy Issues Solved

---
Our Student Housing Property Marketing Strategy has 3 Pillars:

DISCOVER your marketing goals, identify your target market persona, and explore the best marketing tactics for the job at hand.
CREATE a holistic plan that includes the right mix of paid advertising (digital and traditional) and earned, owned, and shared media.
EXECUTE your campaign, track your results, and refine if necessary.



Learn more about the three pillars of our proven property marketing strategy.
---
Discover

Begin by Defining Your Property Marketing Goals
Well-defined marketing goals are essential for effective advertising. But how do student housing properties establish marketing goals that will enable them to run successful leasing campaigns? Here's our three stage property marketing goal-setting process:
#1 Develop Your Property Marketing Goals
To begin the process of uncovering your marketing goals, ask yourself these four questions:
How would you describe your management company or property to someone who has no knowledge of its existence?


If your ideal renter came away with just two thoughts about your management company or property, what would you want them to be?


What are your favorite things about your management company or property? What sets it apart from other management companies or properties?


What style do you envision representing your business or property? What adjectives do you hope to communicate?
#2 Establish Your Property Marketing Goals
The second step in defining winning marketing goals for a student housing property is to create crystal-clear objectives with a systematic process called S.M.A.R.T goals. S.M.A.R.T. principles are Specific, Measurable, Attainable, Relevant and Time-Bound.
Let us walk you through S.M.A.R.T. goal refinement:
S - Specific
Drill down into your goals. What are you looking to accomplish with your marketing? Be exacting with a specific purpose. Your purpose could be as simple as "within six months, we want 25 lease applications completed."
M - Measurable
How will you measure the results of your student housing leasing campaign? What tools do you have in place? As the old cliché says, "what gets measured gets done." By creating specific goals and ensuring you have tools to measure your results, you know what success will look like.
A - Attainable
As you are establishing your marketing goals, you must be realistic. For example, if you have an average of 100 monthly website visitors, you should not expect to multiply that by 100x overnight. Set realistic goals and benchmarks so that you can attain the goals you are establishing.
R - Relevant
Relevancy is another key factor that cannot be overlooked. Make sure your goals are in line with what you can measure. For example, if you are looking for leasing application completions, make sure you allow for lease application form completions to be tracked through the conversion tracking methods you have set up on your site. If you do not, pick another measure or put the appropriate tool in place.
T - Time-bound
Establishing deadlines for accomplishing your goals is equally important. A timeline will help you and your team visualize your destination clearly and ensure that you know when you need to arrive. Just remember, real results take time.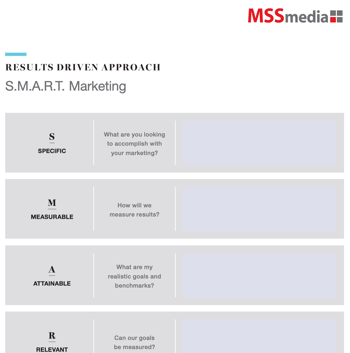 #3 Refine Your Property Marketing Goals
In addition to establishing S.M.A.R.T. goals, we have one more exercise to get you closer to setting those crystal-clear marketing goals: the Journey to Change principles. The Journey to Change process will drill deeper into your real estate marketing strategy and the steps you need to take to reach your goals.
Let's get started.
Define the Problem.
Examine your existing marketing strategy or lack thereof.
What is working?
What is not working?
Strengths? Weakness?
How do you measure up to your competitors in the market?
Define the Desired Outcome.
What are your goals?
Awareness: Are you looking to amplify your property awareness in the market?
Considerations: Are you looking to win over (features and benefits) lease applicants who know what they want?
Conversions: Are you looking for engagements (lease applications)?
How much is your outcome worth? (For example, one completed lease application equals a value of $24,000 gross profit for the property.)
Outline Actions to Attain Goals.
What steps are you taking to reach your goals? Paid Digital Campaign, Print Campaign, and so on?
How much are you investing to attain these goals?
What is your time commitment?
What are the Criteria for Success?
Are you looking to attain specific results? This might be a specific number of website visitors, lease application form fill-outs, or social media followers.
Put an amount to your success criteria based on the data you currently have on hand. Every successful marketing plan needs a North Star. Define your North Star so that your marketing team can surround that goal and make it happen.
See our complete ten step process to reaching your student housing property marketing goals.

Next, Identify Your Target Market Buyer Persona
The second step in creating a successful student housing property marketing campaign is identifying a buyer's persona for your target audience. After all, the best way to successfully engage with any audience is to understand who they are and what they want.
---
To drive user Engagement Further and Faster, You Must Explore the Things That Make Them Tick:

PERSONAL BACKGROUND
THEIR ROLE
THEIR CHALLENGES
THEIR GOALS
HOW THEY LEARN
SHOPPING PREFERENCES
---
Our Identifying Your Buyers Persona Worksheet will help guide you through this process.
---
Create

What Is An Integrated Real Estate Marketing Strategy & Why Create One?
An integrated marketing strategy for student housing incorporates traditional campus advertising, digital marketing tactics, and even some public relations.
By combining tactics from these three marketing arenas, you can extend your reach while each part of your marketing campaign amplifies the efforts of the others. This holistic view incorporates appropriate combinations of traditional out-of-home and print advertising, display, video, search, social, earned media, influencer marketing and promotional events to produce the outcomes you're looking for.
Learn more about the benefits of an integrated marketing strategy for student housing.
Digital marketing solutions are vital for property marketing success.
Student rentals cater almost exclusively to Millennial and Generation Z audiences. These are digitally native demographics, shaped by the consumption of experiences evaluated in the virtual world. To advertise to and connect with these demographics, you must include a digital advertising strategy in your marketing plans.
The umbrella term "digital marketing" encompasses an enormous range of tactics and new media assets. Everything from paid digital advertising to your website and social media channels falls under this category.
The world of digital marketing can be overwhelming. Leasing managers may be tempted to focus the majority of their time, efforts and budget elsewhere. However, this ever-expanding sector is key to recruiting students in today's crowded market. Including a digital component is truly one of modern marketing's best practices.
Online, email and text marketing reach Millennials and Gen Z exactly where they're spending the majority of their time – on their smartphones. Through these channels you can amplify your branding efforts, extend your marketing reach and build deeper relationships with your target audience.
But where should you focus your digital marketing activity?
It's important to choose the channels that best fit your needs and are proven to deliver real results. For property managers looking to increase occupancy in today's market, paid ad campaigns are an excellent way to optimize your ROI. Using location specific geo-targeted advertisements (local Pay Per Click) ensures that the impressions you're paying for reach the candidates you're pursuing.
Learn more about the digital marketing solutions that drive property marketing success.
---
Our Results Driven Approach Uses Today's Best Digital Channels to Solve Leasing Occupancy Issues:

GOOGLE ADS

SEARCH
DISPLAY
VIDEO (YOUTUBE)

BING ADS
SOCIAL ADS/AD CAMPAIGNS

FACEBOOK
INSTAGRAM
LINKEDIN
TWITTER

EMERGING MEDIA
---
Traditional campus advertising also delivers leasing campaign results.
Targeting your advertising efforts geographically is a smart move. College campuses concentrate your target audience in a small area as students live, eat, socialize and learn within a few square miles. Build your brand voice and capture revenue through strategically placed outdoor and transit advertising, print advertisements, chalk art and graffiti.
OUTDOOR & TRANSIT ADVERTISING
Whether delivered via billboard, signs or screens, out-of-home (OOH) media and transit advertising generate repeated exposure, delivering your message over and over again. The visual impact delivers more bang for your buck.
PRINT ADVERTISING
Build rapid exposure within a targeted area with postering. Available when larger advertising formats aren't, posters can be placed in shopping centers, bookstores, cafes, breezeways and public buildings. High frequency repeat exposure produces real results.
Campus newspaper ads are another way to reach your target market on budget, with precision, quickly and effectively.
CHALK ART & GRAFFITI
Sidewalk art, chalk art, stenciling, clean graffiti and graffiti walls allow you to reach your audience in fun, surprising and unique ways that leave a lasting impression. Sidewalks offer a canvas for marketing your brand and promoting events in an artistic style that resonates with young adults.
Created by writing a message on a dirty sidewalk using pressured water and a stencil, clean graffiti has particular relevance for Millennials and Gen Z. This environmentally friendly form of outdoor media creates a buzz and positions your property and/or management agency as an innovative beacon of social responsibility.
Public relations efforts fuel property marketing campaigns.
The public image that you create and promote for your property (and property management company) is an important part of attracting renters. When your reputation both reaches and speaks directly to your target audience, you will generate meaningful results.
Engaging in influencer marketing is possibly the most effective PR tactic for student housing properties. This form of marketing has exploded with the growth of social media. Mentions and shares on sites like Twitter, YouTube, Facebook, Instagram, Tumblr, TikTok and LinkedIn reach millions of viewers. Whether individuals share your content with their peers or high-profile influencers speak favorably of your organization, you gain exposure, build positive brand awareness, and engage more of your target audience.


---

How to Develop a Customized Integrated Marketing Strategy
The PESO Model
The PESO model is a framework for integrating paid, earned, shared, and owned media to create a successful holistic marketing strategy. Apply our Discover. Create. Execute. process in combination with our PESO Infographic to:
Identify the marketing channels and assets you already have in place and those you need to add and/or amplify.


Plan a marketing campaign that includes an effective mix of paid, earned, owned, and shared media.


Execute an effective and efficient property marketing campaign.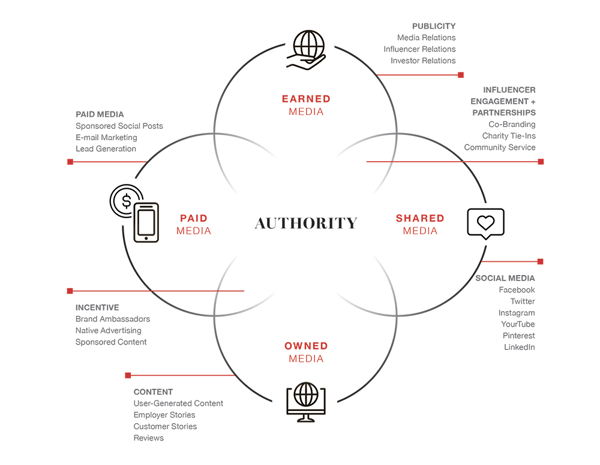 ---
Full Funnel Marketing - Understanding Your Buyer's Journey from Awareness to Action
To effectively motivate your target audience to act, it's important to understand their journey from the top of the funnel (awareness), through the middle (consideration), to the bottom (decision/action). Taking the time to grasp this process is another property marketing best practice.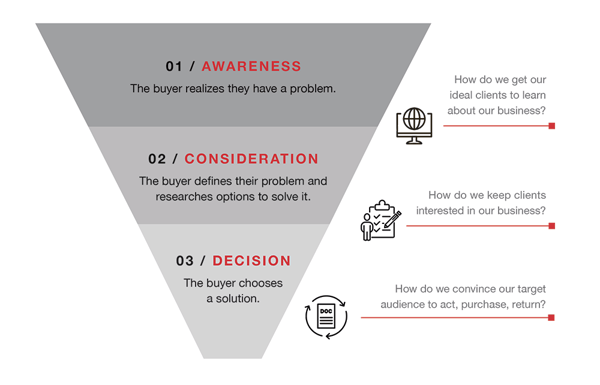 ---
execute

See Successful Full-Funnel Integrated Marketing Campaigns In Action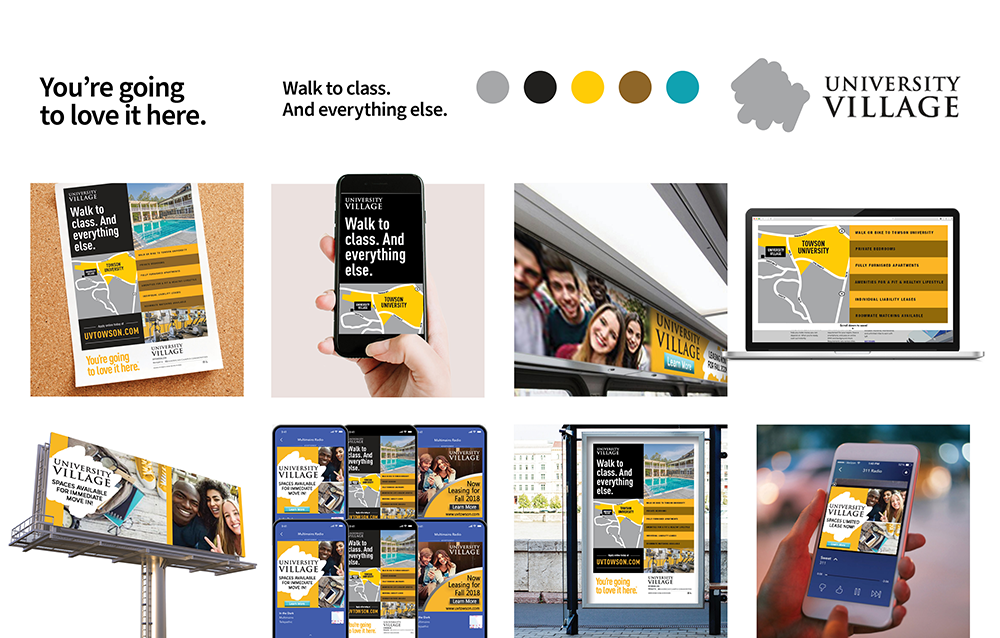 University Village Towson Housing Communication Campaign
OBJECTIVE: University Village Towson was looking to increase website traffic to assist in student housing occupancy and improve their "heads on beds" numbers.
STRATEGY: Using our in-app mobile proximity targeting, we geofenced the Towson University Campus and competing properties to get the attention of those prospects looking for apartment rental options close to campus. We included our own landing page in order to increase engagement with those that clicked on the banner image, allowing them to not only go to the websites, but also to call or ask for directions directly from the page.
EXECUTED:
Print and Digital Campaign
Campus Signage
Transit Advertising
Bus Shelter Signage
Mobile In App Advertisements
RESULTS: Above-average Click Through Rates and Secondary Action Rates lead to increased interest and inquiries in the property. Due to the success of this campaign, University Village continues these efforts year after year.
24 Jones Luxury Apartments Housing Targeting Campaign
OBJECTIVE: 24 Jones luxury apartments located in the heart of Newark, NJ wanted to attract Rutgers University students to help increase occupancy. Beyond on-premise signs, they desired a more effective marketing strategy to increase leasing applications and visits to the website.
STRATEGY: To maximize exposure amongst Rutgers University students, 24 Jones executed an 8-week campaign utilizing both transit advertising on the Rutgers University Newark bus fleet and mobile in-app geo-targeting.
EXECUTED:
Print and Digital Campaign
Campus Signage
Transit Advertising
Mobile In App Advertisements
RESULTS: Surge in online traffic and leasing applications leading to full leasing occupancy for the Spring Term.
---
Are your student housing property marketing efforts failing? Do you need more leads, increased numbers of qualified applicants, and better occupancy rates? Are you looking for a better bang for your advertising buck? Avoid the seven deadly sins of property marketing, employ truly effective advertising strategies, and you will achieve the student housing rental results you require.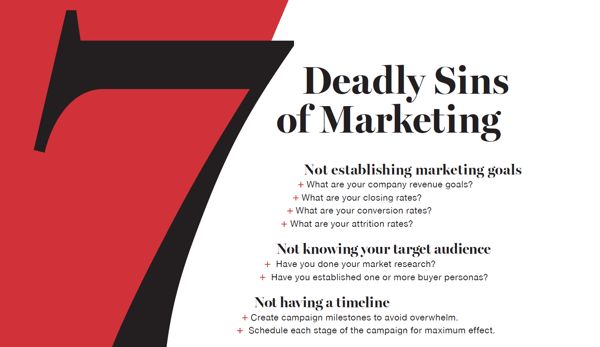 See the step-by-step demonstration of how our proven process worked for SoCam 290's student housing branding campaign.
See the step-by-step demonstration of how our proven process worked for University Village Towson's student housing occupancy campaign.
Looking for more inspiration? Here are four innovative ways to execute a successful student housing property marketing campaign:
---

Marketing Best Practices - Final Notes on Dos and Don'ts
Now that you've seen what can be accomplished with a properly designed property marketing strategy, we hope you're feeling excited and equipped to get started.
Here's a few last notes on property marketing best practices to see you on your way:
DO Focus On Your Customer's Needs
Your marketing strategy must focus on your customer needs and not just on your service or your product. This is the golden rule of marketing. Hone in on how your customers can best benefit from what you are offering because your business is here to fulfill their needs and to provide them with a solution to their problems. This will create brand loyalty and increase returning customers.
DO Implement a Strong Social Media Strategy
It is essential to have a social media presence and strategy. Focus on three main purposes: engagement, scheduling and reporting. Each social media site serves a distinct purpose and your company needs to know how to utilize each of these platforms.
DO Make Marketing Campaigns Mobile Friendly
This is the virtual era— a lot of people spend a lot of their idle time on their phones. Mobile devices are smaller, lighter and more convenient than computers. It is important that companies know how to optimize their campaigns for a mobile setting and make the mobile shopping experience as easy and seamless as possible.
DON'T Forget to Study Your Market
A strong understanding of your industry, competition and demographics is vital. Knowing who and what performs well and why will inevitably influence the marketing strategy. Have a comprehensive understanding of your own product or service, and then make sure to be able to communicate that information in clear, simple terms to consumers. Know what is already available in the market, stay in the know of current trends and don't coast with the status quo.
DON'T Misuse Multimedia
Videos are a key marketing tool and are rapidly growing in popularity. With video, your marketing message can be effectively conveyed to a wide audience faster than ever before. Four times as many people would prefer to watch a product or informational video than read about it, so using videos in your marketing campaign is probably the easiest way to capture consumers. Videos can demonstrate how products work, the process of a specific service, or even discuss the brand's identity.
DON'T Forget Other Marketing Tactics
Successful marketing requires a solid understanding of what catches the attention of your ideal customers. It is important to include a mix of marketing tactics, such as e-mail marketing and influencer relationships.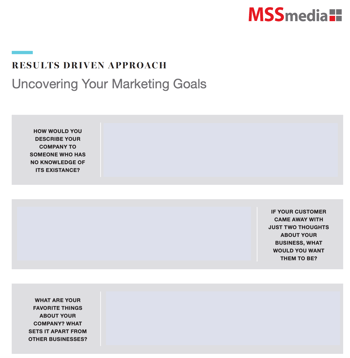 ---
Feeling Overwhelmed?
We know you've got a lot on your plate! In addition to attracting and vetting qualified tenants and keeping occupancy rates high and stable, you may be managing facilities, maintenance staff, and security, all while trying to stay on budget.
Enlisting the help of a results driven media and PR agency that understands your unique needs and what motivates your target audience is a sure-fire way to develop a winning property marketing strategy. When you find the right partner, you benefit from their expertise. Save time, energy, and money while bringing in more qualified leads and optimizing occupancy.