Planning a Winning Real Estate Marketing Campaign - An MSSmedia Demo
If you've been following our property marketing posts, you know that we've thoroughly explored what a student housing marketing campaign is and examined the basics of creating a successful real estate marketing campaign for student housing in depth. Recently we interviewed one of our team experts about a newly published case study that demonstrates how our proven process works for a specific student housing property.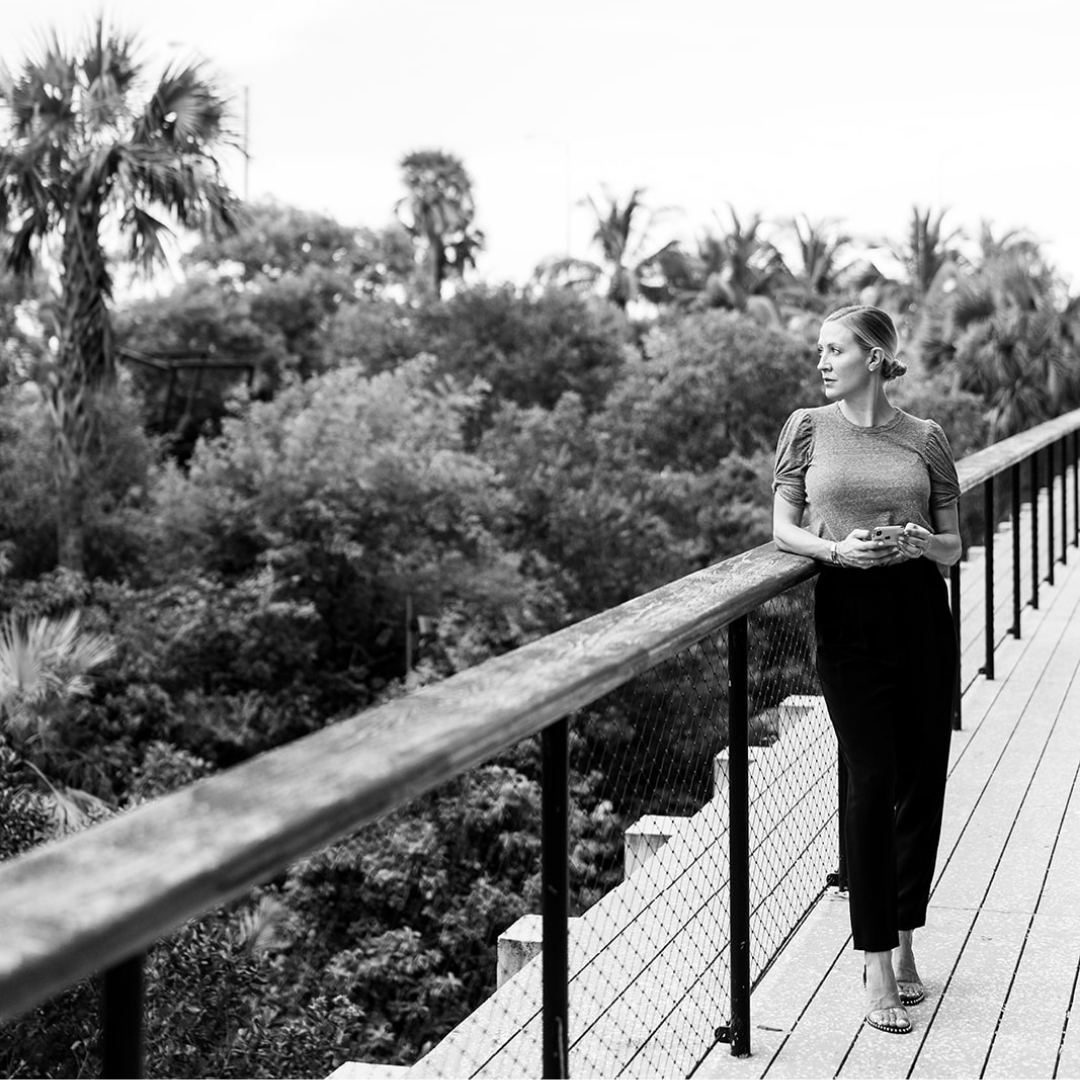 Barbara Gretsch, MSS Media, Inc.'s CEO, has been a driving force almost since our firm's inception. She's held roles in every area of the company, from business development to advertising sales and from marketing to management. Barbara exemplifies our firm's core values - positivity, passion, accountability, dependability, integrity, tenacity, and respect. Her big picture thinking and ability to rise to any challenge not only ensure that MSSmedia thrives, but also sees to it that each of our clients achieves their marketing objectives. Today we'll be exploring the SoCam 290 housing branding campaign with Barbara.
SoCam290 Real Estate Marketing Campaign Interview with Barbara Gretsch
Q: I've heard you say that MSSmedia's results-driven property marketing strategy for student housing has three pillars: discover, create, and execute. Could you explain what those pillars consist of?
Discovery, i.e. research and understanding, is the first step of any successful marketing campaign. This involves uncovering the client's specific marketing goals and where they're at with existing efforts, identifying a buyer persona for their target market, and ascertaining the best marketing tactics to accomplish their objectives efficiently and effectively.
+ Develop student housing property marketing goals that lead to success.
Armed with actionable insights from our research, we then begin the process of developing compelling messaging and creative treatments. Following this, we move to create a full-funnel holistic marketing campaign plan. Our comprehensive research and understanding ensures that each campaign includes the right mix of paid advertising (digital and/or traditional) and earned, owned, and shared media, and that it addresses every stage of the buyer's journey.
Once a client campaign is ready to go, we execute. Digital content and all types of advertising go live at the appointed times. Email campaigns begin. Social media posts are published on schedule. Event plans and influencer marketing campaigns are in place.
To know if our marketing efforts have been successful, we track key performance indicators. For student housing property campaigns, this may include the number of in-person property tours or website views, brochure downloads, number of completed applications, or cost per lead. Of course, the measures used for assessment depend on the client's end goals.
Measuring and analyzing campaign data in this way provides unique insight into the client's audience, marketing channels, and budget. To optimize each campaign's effectiveness, we put these insights to work and make adjustments as needed throughout the duration of the campaign.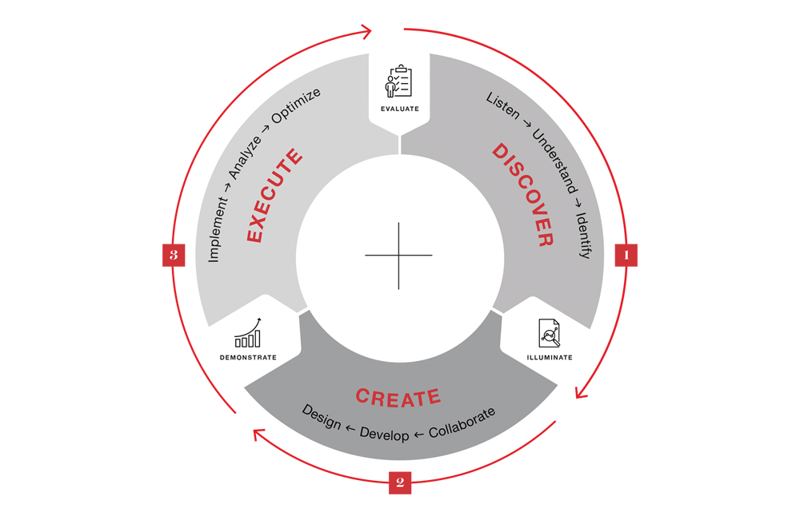 Q: Can you describe the case study we'll be looking at today?
The SoCam 290 housing branding campaign is an excellent example of our proven process. SoCam 290 are luxury student apartments located in New Brunswick, NJ and managed by Greystar. The apartment development had recently undergone a property rebranding and extensive renovations. SoCam 290 wanted to bring awareness of these exciting changes to their target audience while driving traffic to their website and increasing leasing applications.
To achieve these objectives, we assisted SoCam 290 in utilizing one of the largest campus transit systems in the United States to execute a five month branding and awareness campaign throughout peak leasing season. By coupling transit advertising with in-app mobile proximity targeting, SoCam 290 maximized their exposure to their target Millennial and Gen Z audience.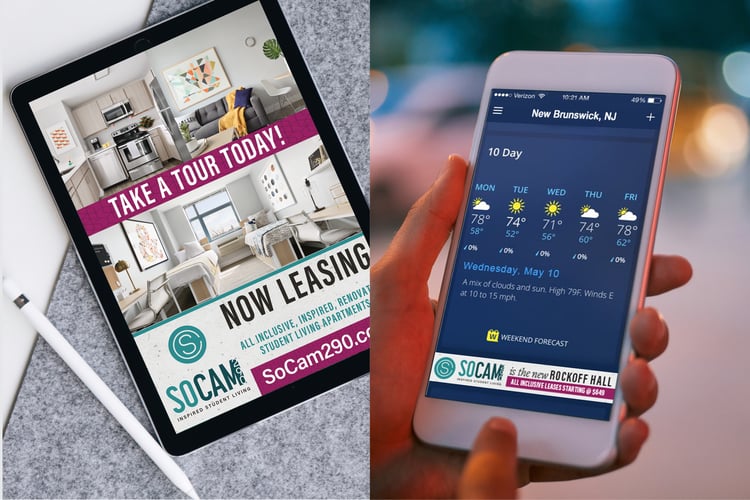 Q: Please describe the preparatory steps MSSmedia undertook to maximize ROI for this campaign.
We began by defining the problem, first examining SoCam 290's existing marketing strategy. We explored what was working, what wasn't working, and the strengths and weaknesses of the plans and efforts they had in place. We considered whether there were ways they could augment their existing endeavors to meet their objectives or whether they needed to start from scratch.
Next we worked with SoCam 290 to develop crystal clear marketing goals that were specific, measurable, attainable, relevant and time-bound. In this case, SoCam 290 wanted to publicize their extensive renovations and reinvention while driving traffic to their website and increasing the number of completed leasing applications received. We set campaign goals for mobile and transit advertising impressions, engagement rate, lease applications received, and cost per conversion, and aimed to have the campaign in place for the back to school season.
+ Learn 10 steps to reach your student housing property marketing goals.
To maximize engagement success, we helped SoCam 290 identify a specific buyer persona for their target Millennial and Gen Z audience, considering demographic information, what this audience is looking for when it comes to housing, and what motivates this target market to engage with advertising efforts. Marketplace and competitor research provided valuable insights into what else was available in the market and the ways that SoCam 290 outstripped their competition.
+ Identify target personas for a winning real estate marketing campaign.
By identifying the marketing channels and assets that SoCam 290 already had in place and the tactics that most effectively influence their target buyer persona, we were able to consider which approach to take with this branding campaign.
Q: What was involved in the creation of this campaign?
To achieve optimal results, we incorporated traditional transit advertising with in-app mobile proximity targeting. This type of integrated campaign extends reach as each piece of the campaign amplifies the efforts of the others.
+ See the benefits of an integrated marketing strategy for student housing.
Part of arriving at this strategy was consideration of the target buyer's journey. To effectively motivate a target audience to act, it's important to understand their journey from the top of the funnel (awareness), through the middle (consideration), to the bottom (decision/action). In relation to the goals SoCam 290 established for this marketing campaign, they were looking to establish a full funnel strategy. They wanted to amplify awareness of their property in the market, lead potential renters to consider the value of their apartments, and convert interested parties to engage (i.e. complete lease applications).
+ See more of the property marketing best practices that drive audience engagement.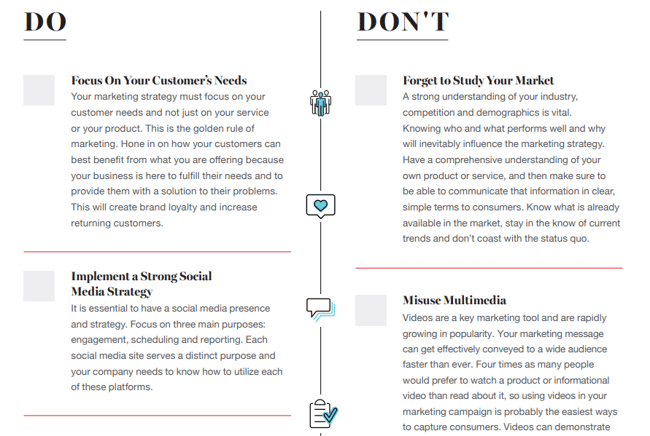 Q: What did execution and follow-up look like for this campaign?
The execution phase is when all pre-campaign preparation (research and planning) comes to life. Once all the pieces of SoCam 290's campaign were in place and operational, we began gathering the data necessary to assess the campaign's effectiveness and make important adjustments for maximum results.
Depending on the scale of the campaign, we need 15-30 days worth of campaign pacing to have enough data to make productive changes. When that observation window passed, we analyzed what was working and what was not, derived data-driven hypotheses, and made adjustments for further optimization. This is an iterative process throughout any campaign, from revamping campaign copy and keywords and testing the variants to creating remarketing campaigns to drive higher conversions.
As we do for all clients, we provided SoCam 290 with monthly reporting highlighting the key performance indicators. In this case, that reporting included impressions, click throughs, and conversions.
Q: Was the SoCam 290 housing branding campaign successful?
Absolutely! Campaign success was clearly evident by the number of impressions, clicks, and engagement across all platforms. We delivered more than two million mobile impressions, over fourteen thousand clicks (which is an above average engagement rate), and over eight million impressions via transit advertising. In addition, SoCam 290's leasing applications through their website rose above the previous year's benchmark by 100% and continue at higher levels even after campaign conclusion. Cost per conversion decreased by 60%, and in the first year following the campaign, SoCam 290 experienced a three-fold increase in leasing.
Planning a Successful Real Estate Marketing Campaign - Your Next Steps
"The success of your presentation will be judged not by the knowledge you send but by what the listener receives."

- MARGARET FULLER
We're happy to have the chance to share the knowledge we've gained over the years with you, and hope that you're able to implement our tried and true process in a way that provides real results. Please feel free to take full advantage of our no-cost marketing resources, and to contact us if you're looking for assistance with successfully planning and implementing your next real estate marketing campaign.
Would you like to learn more about how to create a successful property marketing campaign for student housing? See our complete guide to property marketing in the student housing sector.
Here at MSS Media, I, we've been providing Education, Government, Real Estate & Lifestyle clients with succinct, optimized, and successful marketing solutions for more than 15 years. Consider MSSmedia a full-service, one-stop shop for all your Media and Public Relations needs. Your goals are our motivation. And our mission is to propel your message, further and faster, to achieve the outcomes you're looking for. If you found this blog post helpful, please share!
+

BE IN THE KNOW
We deliver the latest media tips + insider marketing advice straight to your inbox.
+

Media + Advertising