Effective University Advertising with Newspaper Ads and Tabling Events
Recently we discussed the visual impact of traditional campus media, particularly OOH/DOOH, transit ads, and postering. Today we look at two other forms of analogue university advertising - student newspaper ads and tabling events. Learn how these forms of marketing will engage a crucial audience and deliver surprising results.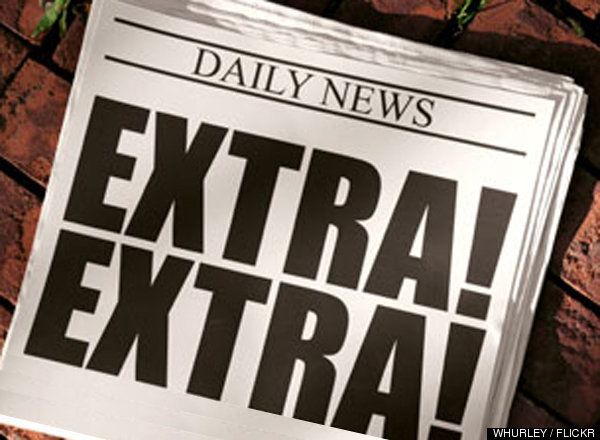 Boost your university advertising campaign with newspaper ads.
Given the fact that 72-80% of college students regularly read their student newspaper, it should come as no surprise that these newspapers are thriving despite today's digital-first media environment. This fact alone makes print ads a critical medium to engage students, but this tried and true marketing tactic offers several other unique benefits.
According to CEO Today, "statistics have shown that traditional print media including newspapers, magazines and poster advertising are highly trusted sources, much more so than online advertising and social media." Because college newspapers are community news sources, created by students for students, they are likely to engender even greater levels of trust than other types of print media. Readers perusing the paper for information are likely to view the included advertisements with the same open mind with which they approach the articles themselves.
"Trust is the glue of life. It's the most essential ingredient in effective communication. It's the foundational principle that holds all relationships."

– STEPHEN COVEY
In addition, since student newspapers are a very localized advertising medium, ads can be tailored specifically to each target audience for maximum effect. Furthermore, because newspaper ads are well retained after a single reading, you can run the your advertisements less often and achieve the same effect.
+ Learn why college students are an important target market.
Engage student audiences with event marketing.
Millennials and members of Generation Z are seeking opportunities for connection, moments that they can discover and share. In fact, 69% of millennials believe that participating in events helps them connect better with their friends, communities, and the world at large. Therefore promoting your business or brand at campus events is an excellent way to reach young adult audiences.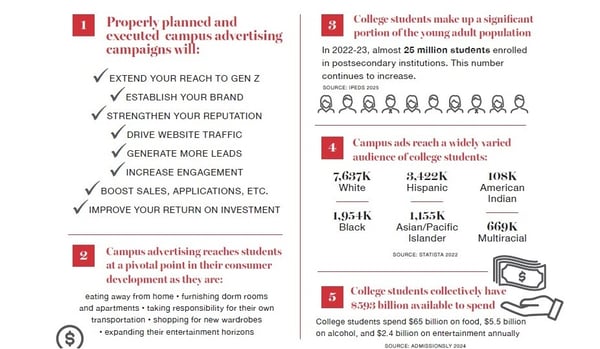 You can engage in effective university marketing by setting up a table for campus tours, speaking events, open houses, info sessions, athletic events, and other in-person campus activities. These are great times to interact with current students, potential students, their parents, and other influential people. In addition to sharing your brand and company information/benefits, consider handing out something tangible to make your presence both appreciated and memorable.
Give out branded swag. Students will happily accept (and show off) free items that showcase their school's superiority. Hats, t-shirts, foam fingers, and the like guarantee exposure in person and on social media. Weather friendly gear will make a big showing at outdoor events too. Think hand warmers, hoodies, stocking hats, scarves, water bottles, personal misting fans, cooling towels, and more.


Offer a student discount. Coupons aren't just the province of older generations. Members of younger generations love them too. In fact,

88% of millennials

say that obtaining a promotion or discount would encourage them to make a purchase. Students have enormous buying power and their brand loyalty isn't yet cemented. Giving away coupons encourages them to test out your product or service, and perhaps locks in a customer for life.

Would you like to learn more about how to advertise on campus, how much university advertising costs, or the best colleges for marketing and advertising? See our complete guide to advertising to university students.
Here at MSS Media, Inc., we've been providing Education, Government, Real Estate & Lifestyle clients with succinct, optimized, and successful marketing solutions for more than 15 years. Consider MSS Media, Inc. a full-service, one-stop shop for all your Media and Public Relations needs. Your goals are our motivation. And our mission is to propel your message, further and faster, to achieve the outcomes you're looking for. If you found this blog post helpful, please share!
+

BE IN THE KNOW
We deliver the latest media tips + insider marketing advice straight to your inbox.