Traditional Campus Media: Why Use OOH/DOOH, Transit Ads & Postering
The visual impact of traditional campus media delivers excellent bang for your buck. From bike shelters to newspaper kiosks to bus wraps, offline campus ads have the power to gain outstanding exposure and impressions. As one of the first advertising touchpoints, physical media increases brand awareness and recognition. Learn why traditional campus media delivers excellent ROI and discover the specific benefits of OOH/DOOH, transit ads, and postering.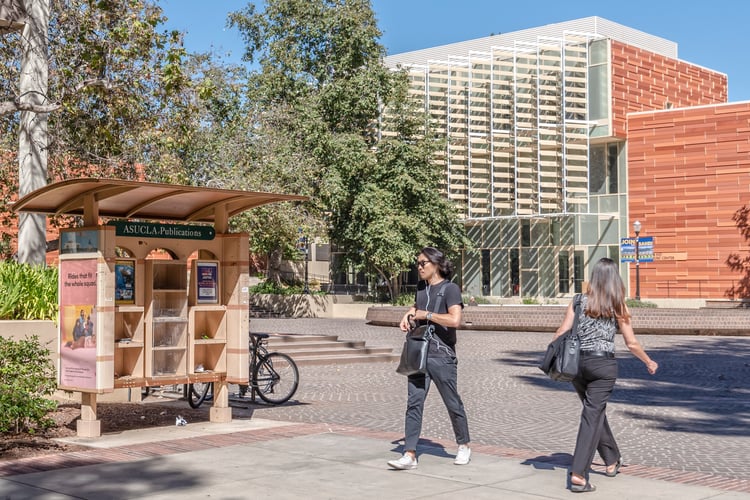 Targeting your advertising efforts geographically is a smart move. College campuses concentrate your ideal audience in a small area as students live, eat, socialize, and learn within a few square miles. Signage in campus hangouts, university stores, bus shelters, and on local transit routes is likely to garner a lot of valuable exposure. Strategically placed traditional campus media will help you build your brand voice and capture revenue.
+ Learn why college students are an important target market.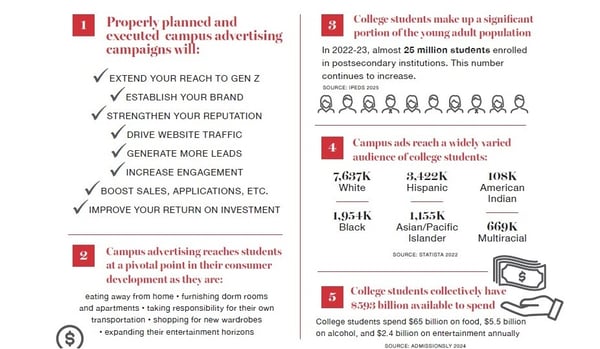 Traditional Campus Media Options
The campus advertising landscape is much more robust than it was in years past. Brands and businesses can now advertise on campus using transit ads, outdoor kiosks, bus shelters, billboards, digital screens, posters, and more. New signage opportunities offer an excellent chance for organizations to get in front of the campus demographic like never before. Let's explore the specific benefits of out-of-home advertising, transit advertising, and postering.
Out-of-home advertising (OOH)

Digital out-of-home advertising (DOOH)

Transit advertising

Postering

Newspaper ads

Tabling events
Whether delivered via billboards, signs, or screens, out-of-home (OOH) media and transit advertising generate repeated exposure, delivering your message over and over again. And the visual impact delivers more bang for your buck. After all, viewers can't turn these ads off, scroll past them, or fast forward through them. This explains why a large percentage of consumers notice static and mobile billboards, and many of them take related follow-up actions.
"Make it simple. Make it memorable. Make it inviting to look at."

– LEO BURNET
+ See our guidelines for creating a successful outdoor advertisement.
OOH Media
As you might expect, OOH (or out-of-home) media is advertising that reaches consumers outside of their homes. While it encompasses many of the marketing techniques included in this article, for now we'll focus on large format OOH advertising - billboards, signs, wall panels, etc.
These types of ads can be placed almost anywhere, including along roadways, on newsstands and kiosks, and both inside and outside of shopping malls, stadiums, movie theaters, convenience stores, gyms, bars, restaurants and gas stations. Popular campus locations include high-traffic areas like student unions, dorms, dining halls, lecture halls, libraries, and book stores.
According to Darcy Keller, former Communication Head at The Financial Times, the objective of OOH media is to build awareness and increase engagement. The Out of Home Advertising Association of America explains that "OOH goes where most other media can't go to surround and immerse consumers out of home, where they spend 70 percent of their waking hours." That explains why this traditional form of advertising is still wildly successful if executed correctly.
Here's an example of a highly effective campus focused marketing campaign that utilizes large format signage: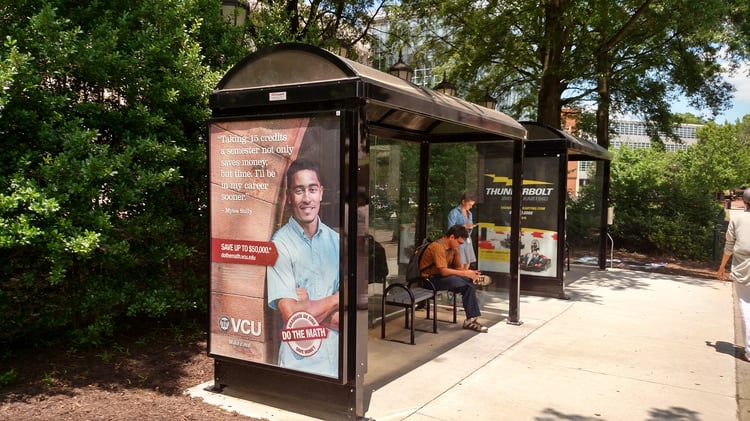 DOOH Media
Digital OOH messaging (or DOOH) is a newer development in the field of traditional campus media. Not to be confused with online advertising, DOOH ads use physical screens to display electronic messages. These digital billboards and signs can be activated and changed more quickly than traditional signage and may include features like scrolling, countdowns and live updates. A recent article from Marketing Dive estimates the number of DOOH advertising screens in America today to be about 220,000.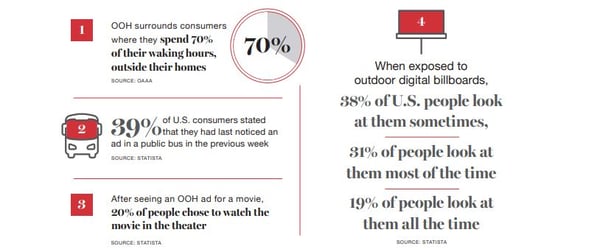 Transit Advertising
Transit advertising is OOH advertising that is placed in or on any mode of public transportation, from buses to shuttles, and from trains to taxis to trucks. It can also be situated in or on public transportation areas like train stations, bus stops, airports, subways and even bike racks. Sizes and types of signage vary from small interior cards to larger wall panels to bus wraps.
Aside from being an important way to reach almost any type of target audience, transit advertising is one of the most effective advertising mediums for reaching students during the back-to-college season or any time school is in session. After all, students are often on the go between classes, work, home, and recreational activities.
It's worth noting that some city buses are assigned specifically to college routes. If you're planning to incorporate bus signage in your campus advertising campaign, you may want to ask the transit company if you can put your signs in those particular buses to really zero in on your target audience.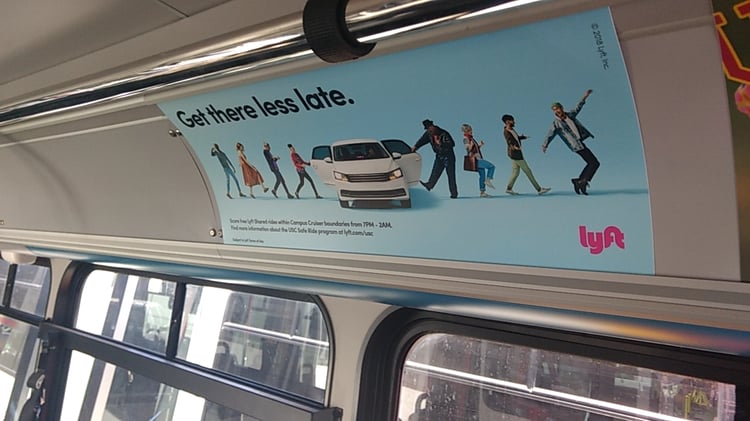 Postering
While it may seem simplistic, there are several benefits to advertising with posters. First of all, posters can be placed in areas where larger advertising formats aren't an option. Shopping centers, bookstores, cafes, libraries, student unions, dorms, academic buildings and breezeways are all possible locations for postering.
Secondly, posters are an excellent way to build rapid exposure comparatively cheaply. They're quick and easy to print and don't require specialty installation. Overall, they're an extremely cost-effective option for reaching audiences in high footfall areas.
Most interestingly, according to CEO Today, "statistics have shown that traditional print media including newspapers, magazines and poster advertising are highly trusted sources, much more so than online advertising and social media. Posters, in particular, have always appeared in public places, which seems to make them more visible and trustworthy than other forms of advertising."
Here's an example of a successful campus poster campaign:
See our complete guide to advertising to university students.
Here at MSS Media, Inc., we've been providing Education, Government, Real Estate & Lifestyle clients with succinct, optimized, and successful marketing solutions for more than 15 years. Consider MSS Media, Inc. a full-service, one-stop shop for all your Media and Public Relations needs. Your goals are our motivation. And our mission is to propel your message, further and faster, to achieve the outcomes you're looking for. If you found this blog post helpful, please share!
+

BE IN THE KNOW
We deliver the latest media tips + insider marketing advice straight to your inbox.