How Gen Z and Millennials Use Social Media Differently
Social media marketing matters. But to truly succeed in this area, businesses need to understand their target audience's social media usage. For example, the two generations we would describe as digital natives, Gen Z and millennials, use social media differently. And that difference is important. Learn what those differences are, and why they matter.

Social Media Usage - The Differences
Millennials (born between 1981 and 1996) estimate they spend an average of 3.8 hours a day on social media. Meanwhile, members of Gen Z (born from 1997 to 2012) spend almost 4.5 hours a day on social. Millennials are more likely than Gen Z to be following small businesses and big brands, while Gen Z is more likely to be consuming (and spreading) social media trends and viral content.
Compared to millennials, Gen Z has become more active on social media platforms during the COVID-19 pandemic, reporting boredom and a need to feel connected. As a response, they spend more time messaging friends, video chatting, and checking their feeds. In spite of this longing for connection, a large percentage of Gen Z say that the main reason they visit social media platforms is for entertaining content, while millennials report heading to social media mainly to keep up with friends and family.
"I grew up in a physical world, and I speak English. The next generation is growing up in a digital world, and they speak social."

– ANGELA AHRENDTS
There are also generational differences in the preponderance of users on individual social media platforms.
90% of Instagram's 1 billion monthly active users are under the age of 35.
The median age of adult Twitter users in the United States is 40 years old.
Snapchat reaches 75% of Millennials and Gen Z, and 38% of Snapchat users aren't on Instagram.
41% of TikTok's more than 90 million monthly active users are between the ages of 16 and 24.
+ Learn more about emerging social media platforms.
Social Media Usage - The Ramifications
When choosing the right social media marketing platform(s) for your business, you must consider who you are trying to reach and what you are trying to accomplish. In addition to being aware of each platform's role in the buyer's journey, you must also keep these things in mind:
Where your target audience spends their time.
What your target audience is looking for from their social media usage.
How your target audience interacts on their chosen social media platform(s).
+ Maximize your marketing campaign by addressing every stage of the buyer's journey.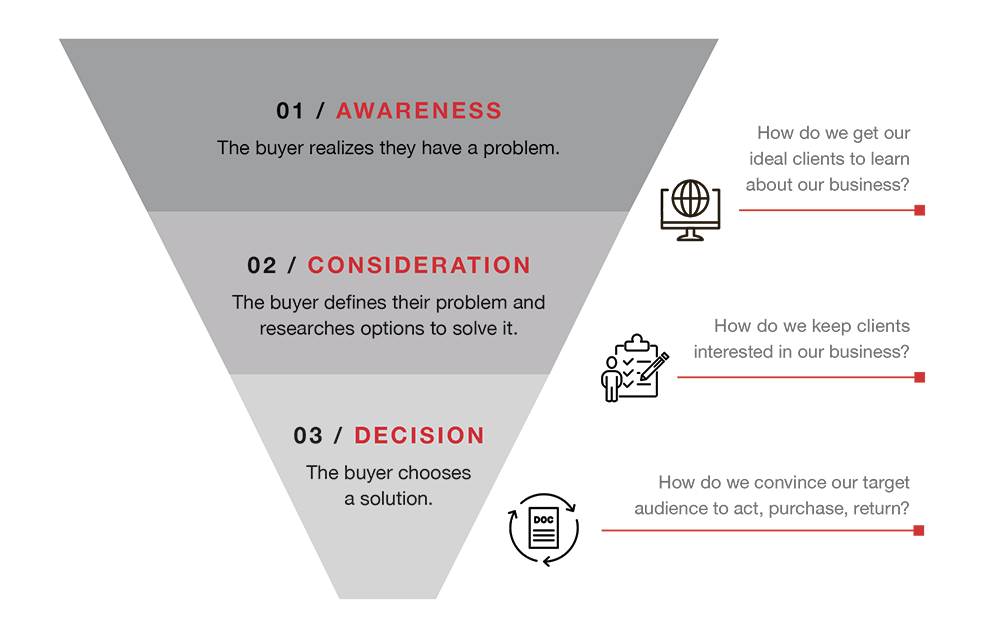 Whether you're investing your time and energy in "free" social media marketing or paying per click, per impression, per action, or per lead for social media ads, the cost can add up. To get the most for your time, energy, and money, you must make sure your efforts reach your intended audience. Social media marketing allows you to target your desired audience in several ways, including the following:
Maintain a presence and advertise only on the social media platforms your target audience is most likely to use (or uses the most).
Choose to utilize social media platforms/show your ads to social media users based on the location, age, gender, or interests of your target audience.
Choose to utilize social media platforms/show your ads to social media users based on your target audience's actions, both on- and off-line.
+ Increase audience reach and engagement with targeted social media ads.
By utilizing the social media platforms that are most relevant to your aims and audience, you will maximize your ROI and achieve meaningful and measurable results.
Here at MSS Media, Inc., we've been providing Education, Government, Real Estate & Lifestyle clients with succinct, optimized, and successful marketing solutions for more than 15 years. Consider MSS Media, Inc. a full-service, one-stop shop for all your Media and Public Relations needs. Your goals are our motivation. And our mission is to propel your message, further and faster, to achieve the outcomes you're looking for. If you found this blog post helpful, please share!
+

BE IN THE KNOW
We deliver the latest media tips + insider marketing advice straight to your inbox.