Why Advertising at Florida International University Is Valuable
Florida International University (FIU) is a Top 50 public university that drives real talent and innovation in Miami and globally. It is an urban, multi-campus, public research university serving a large and diverse student body and the eclectic population of South Florida. U.S. News and World Report places dozens of FIU programs among the best in the nation. Learn more about the many reasons why advertising at Florida International University is valuable.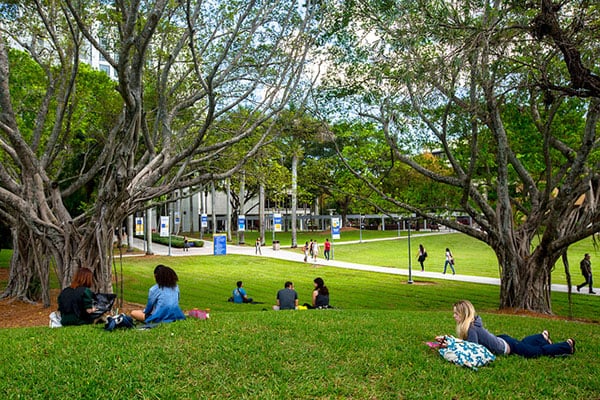 Target Market Size & Diversity
FIU serves a diverse student body of more than 58,000. It is among the top ten largest universities in the nation and has collectively graduated almost 300,000 alumni, 115,000 of whom live and work in South Florida. The FIU community is extremely varied.
"Be where the world is going."

– BETH COMSTOCK
FIU by the numbers:
300+ academic associations, honor and professional societies, cultural organizations and interest groups
142 countries represented in the student body
18 intercollegiate athletic teams in the NCAA
The FIU student population is:
61% Hispanic
15% White Non-Hispanic
13% Black
4% Asian or Pacific Islander
7% other minority groups
FIU is Miami's public research university and offers more than 190 degree programs including bachelor's, master's, and doctoral degrees. Its campuses and programs serve learners of all ages, from high schoolers and to young adults to working professionals and adults age 50 and above.
+ Learn why college students are an important target market.
Florida International University Footprint
Today, FIU has two campuses and multiple centers, creating a wide range of advertising opportunities for almost any target audience. Modesto A. Maidique Campus (MMC), the original home of FIU, encompasses 342 acres in West Miami-Dade. It's home to some of FIU's largest and most recognized schools and colleges. Students can eat, sleep, and play without ever leaving MMC.
Biscayne Bay Campus
The Biscayne Bay Campus (BBC) is a waterfront, 200-acre campus. It's home to some of FIU's highest ranked programs and most innovative labs. It's also the birthplace of the South Beach Wine and Food Festival, the North Miami Brewfest, and other unique activities and experiences. BBC has its own campus culture (dubbed the Bay Life), student housing, library, and recreation center. BBC has partnered with local institutions including MAST@FIU, the only public high school in Florida that enjoys a collaborative partnership with a public university. The campus also houses the Osher Lifelong Learning Institute which provides a distinctive array of non-credit educational experiences and social engagement opportunities specifically developed for adults aged 50 or older.
FIU at I-75
The FIU at I-75 academic center in Miramar provides undergraduate and graduate degrees to busy students throughout South Florida. Shared with Broward College, the campus offers morning and night classes on weekdays and fast-track weekend programs optimal for adult learners. The 89,000 square foot complex offers programs from the College of Arts & Sciences, College of Business, College of Education, and College of Engineering & Computing and is equipped with offices, classrooms, a student lounge, and study space.
FIU Downtown on Brickell
The FIU Downtown on Brickell facility is conveniently located in the heart of downtown Miami at the iconic office towers at 1101 Brickell Avenue. They offer accelerated graduate business programs designed specifically to meet the needs and schedules of today's working professionals, with an accessible location for individuals who work or live in the area. This center houses top-ranked MBA programs for the Chapman Graduate School of Business as well as programs for the College of Arts & Sciences and the College of Engineering and Computing.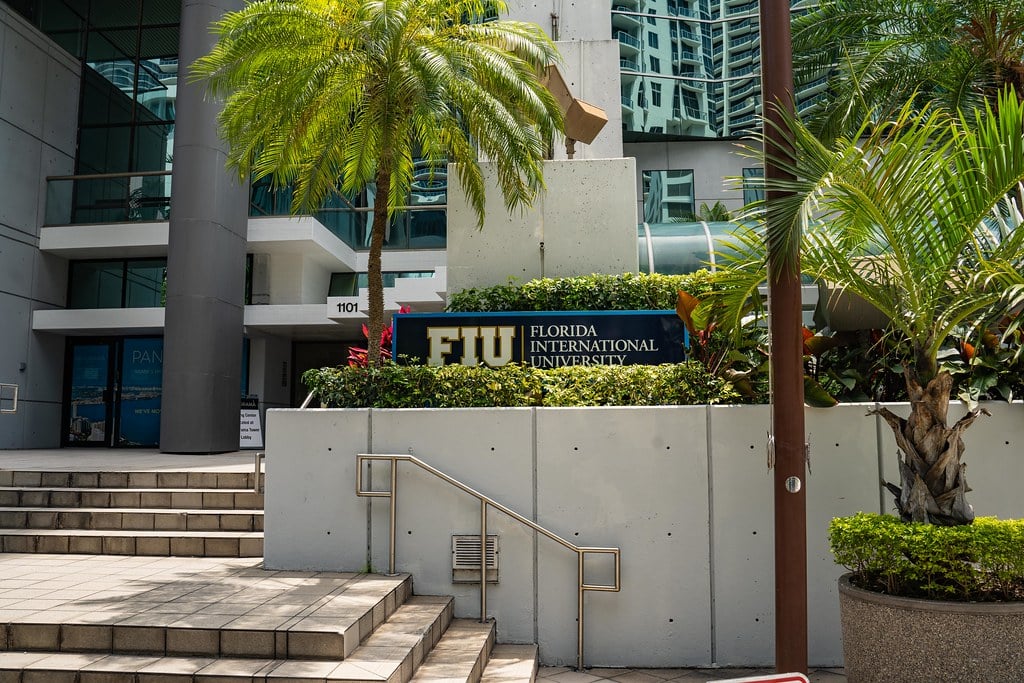 Options for Advertising at Florida International University
For those looking to reach a diverse section of the coveted college demographic as well as many other types of consumers, FIU provides a variety of campus advertising options. These range from traditional and transit advertising to digital and social media marketing opportunities.
Traditional Campus Media & Transit Advertising at Florida International University
Traditional campus media and transit advertising generate repeated exposure, delivering your message over and over again. With these options, you can target your advertisement geographically and make an impressive visual impact.
+ Learn more about the benefits of traditional campus media.

Like most campuses built in the 1960's, MMC (FIU's main campus) is a closed campus, with buildings arranged in a circle of sorts, rather than sprawling out into the surrounding community. This means that to effectively reach most students at FIU with traditional campus advertising, you must maintain a presence on campus, not just in the surrounding area. MSS Media, Inc. is pleased to offer direct on-campus access to those who would like to advertise at FIU.
Digital Advertising at Florida International University
Digital media builds awareness, influences consideration, and converts audiences for real results. There are a variety of options for digital advertising at Florida International University that will improve your marketing effectiveness:
Mobile Advertising
Search Advertising
Display Advertising
Video Advertising
Social Advertising
Audio Advertising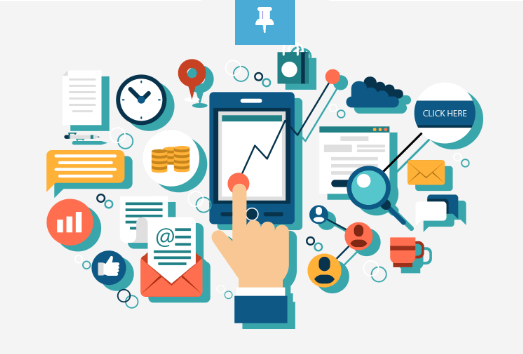 Your FIU Advertising Partner
As a proud partner of FIU, we offer full-service media and marketing services that provide the opportunity to market directly to the campus population at FIU and beyond. In addition to advertising signage on the FIU transit shelters, MSS Media, Inc. offers a suite of services to help clients effectively and efficiently reach their marketing goals by delivering real results.
Media Services
Campus Out of Home
Paid Digital Campaigns
Paid Social Campaigns
Campaign Reporting & Optimization
Branding + Graphic Design
See our complete guide to advertising to university students.
Here at MSS Media, Inc., we've been providing Education, Government, Real Estate & Lifestyle clients with succinct, optimized, and successful marketing solutions for more than 15 years. Consider MSS Media, Inc. a full-service, one-stop shop for all your Media and Public Relations needs. Your goals are our motivation. And our mission is to propel your message, further and faster, to achieve the outcomes you're looking for. If you found this blog post helpful, please share!
+

BE IN THE KNOW
We deliver the latest media tips + insider marketing advice straight to your inbox.