Amplify Your Campus Marketing Campaign with Mobile Apps
Did you know that college students in the United States have over $500 billion in spending power? Therefore, gaining the attention of the millions that make up this audience is vital for a wide range of corporations and organizations. Campus marketing campaigns focus your advertising efforts on the limited areas in which these young people live, learn and earn with excellent effect. Mobile applications are one of the newest tools in the diverse campus marketing tool bag.
+ Learn how to plan a successful campus advertising campaign.
Colleges Are Being Transformed by Mobile Apps
Today's students have more technology than ever before. Cellphones, tablets, laptops and more are commonplace on modern college campuses. With these devices come a multitude of mobile apps that open students up to a wealth of information from entertainment, news and much more. Popular apps range from social media to photo editing to fitness and education tools.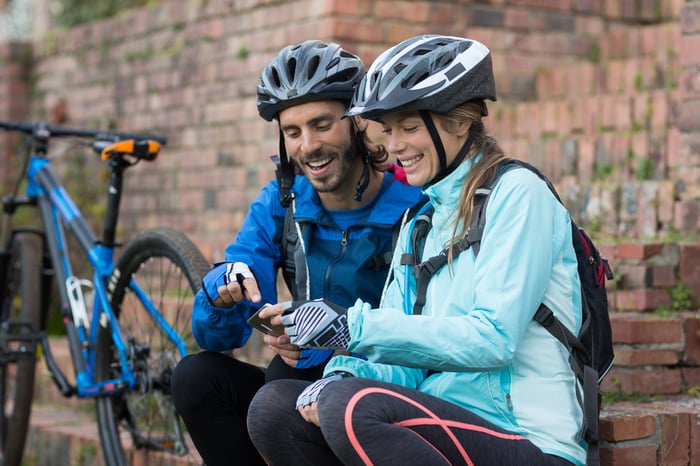 Here are some options for targeting the college market through mobile apps:
1. QR Codes
Use QR codes on your creative to trigger downloads of your brand's app or to direct the audience to your website. In today's digitally focused world, driving traffic is an invaluable way for many businesses to make sales or find qualified leads. QR code scanning apps come pre-installed on many smartphones and are available for installation on other mobile phones of all kinds.
2. Offer Discounts
College students are always looking to save money. Offer students deals and discounts in exchange for downloading your mobile app. Not only will the presence of the app on your phone remind users that you exist, you can now use push notifications to message your audience and offer them incentives to buy your products or engage with your brand. This increases the likelihood that these young adults will be customers now and in the future.
3. Share on Social
For Gen Z, life does not happen if it is not recorded on social media. Incorporating these highly used apps into your campus marketing campaign will speak volumes to your target market.
+ See our paid social advertising stats infographic.
Young people (both millennials and Generation Z) are highly influenced by the opinions and recommendations of their peers. Motivating your audience to share your content on social media increases your reach, enhances your perceived trustworthiness and improves your campaign results.
However you choose to utilize mobile apps in your marketing, you can expect increased engagement from your target audience.
+ Learn more about how digital advertising is changing consumer habits.
See our complete guide to advertising to university students.
Here at MSSmedia, we've been providing Education, Government, Real Estate & Lifestyle clients with succinct, optimized, and successful marketing solutions for more than 15 years. Consider MSSmedia a full-service, one-stop shop for all your Media and Public Relations needs. Your goals are our motivation. And our mission is to propel your message, further and faster, to achieve the outcomes you're looking for. If you found this blog post helpful, please share!
+

BE IN THE KNOW
We deliver the latest media tips + insider marketing advice straight to your inbox.