What Are the 5 Things to Keep In-Mind When Advertising On Campus?
Each fall, millions of students attending U.S. colleges and universities carry more than $400 billion in spending power. As students flock to campuses nationwide, there are endless opportunities for advertisers to get in front of college buyers. Over the years, we have worked with both advertisers and universities to run successful back-to-college campaigns. And with our experience, we know what works and what does not work when targeting this audience. So before you start, we suggest keeping these five things in mind when looking to launch an advertising campaign on campus.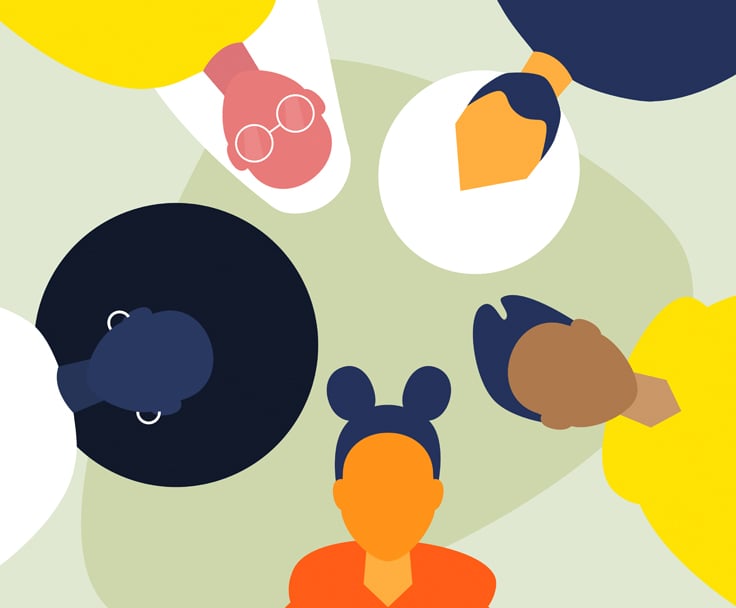 Know Your Competition
One of the most efficient ways to understand your target market is to study the competition. Analyze your competitors' weaknesses and strengths. What do they offer that you don't? Who are they selling to? Understand what they are doing right and what they may be doing wrong. Once you have outlined a plan, start looking at their social media presence! Look at things like their engagement rate on Facebook and Instagram. Search for their home page on LinkedIn and see if you can do better! Conducting an in-depth analysis of your competition will help you organize all your ideas and projects on how to market to Millennials. Working with a company like MSSmedia who can help you conduct a competitive audit can put you ahead of the game. Our campus experts can help you redefine your advertising strategy and maximize your advertising budget.
Define Your Target Audience
After you have analyzed your competitors, identify a specific target audience that will best fit your product or service. Do you want to target local students, international students, or maybe student organizations? The options are countless, which is why you need to organize your stream of thoughts before going further in your marketing plan. Start by answering some of the following questions. How old is your target market? Where can you find the target audience you want to reach? What are some of the values the target cares for most? What are they most interested in? Campus OOH advertising can be integral to generating brand awareness among generation Z. Research has shown that more than 70% of students pay attention to on-campus billboards and posters.
After answering these questions, you can begin to create a sketch of the types of young people you are interested in reaching. With this strategy, you will be able to personalize your marketing message and identify specific characteristics that you may not have considered before.
At MSSmedia, we know how to reach college students. For instance, one of our out-of-home campaigns with Panera was launched a few years ago at Ohio University and Virginia Tech. It featured various OOH installments to promote the new delivery to the two campuses. The campaign ended up being so successful in the number of impressions delivered (over 58 million) that Panera scheduled a similar campaign the year after.
Do Not Ignore Digital
The advent of digital advertising brought in a completely new landscape for campus advertisers. And, when targeting millennial audiences, it is crucial to utilize digital spaces like mobile targeting and social media ads. Also, students consider mobile advertisements relevant and informative, mainly when the content is innovative or relates to them. Mobile interaction includes things like coupons, live polling, surveying, and texting for more information. We have mastered our digital marketing expertise for years and helped various clients, such as Spotify and Pandora, to increase brand awareness, website traffic, and in-store sales. If interested in learning more how we can help with your campus digital advertising efforts, let us know by contacting us here.
Take It Further
Student discounts are a popular strategy among campus advertisers. Big brands like Amazon and Spotify have them over the years to build loyalty among millennial consumers, and it works. Coupons and promotions drive brand engagement and create a more personal relationship between the person and the brand. However, do not bet all your business' success on discounts. Add something so that people will connect with your brand. Add value to your brand so that customers will choose you not just for convenience but because they feel they belong to it. For example, Dove has been climbing success for the last couple of years after celebrating what real beauty looks like amongst women of all ages. People choose Dove not just for the price, but because they can relate to the message that the brand stands for. They buy Dove because they see a value. At MSSmedia, we can help you organize your brand's voice while redefining the marketing strategy that can set you apart from the competition.
Have a Plan
Before you start developing your "plan of attack" for the millennial market on campus, you need to have a clear idea of what you want to accomplish and what results from the campaign do you want to see. We help our clients achieve their goals through original and forward-thinking campaigns in both out-of-home and digital spheres. For example, one of our successful on-campus advertising campaigns on behalf of HSHS Medical Group launched at the University of Illinois-Springfield. The challenge was to increase brand awareness and relevant traffic to the website. The results? Both the mobile geo-targeted campaign and out-of-home installments delivered more than 3 million impressions. Also, the site secured more than 800 Clicks to Call and Clicks to Website.
To ensure the success of your business in such a competitive field as the campus marketing can be, make sure to trust the right professionals that can help you along the way. Do your homework! Keep yourself updated on the latest news on how to market to Millennial and Gen Z generations or schedule a call with our campus experts to learn more about the best ways to advertise on college campuses.
+

BE IN THE KNOW
We deliver the latest media tips + insider marketing advice straight to your inbox.