Top 5 Campus Advertising Strategies for College Recruitment
Are you a higher education marketer looking to build your brand voice, attract more qualified applicants to a specific major or graduate program or drive participation in wellness programs (and similar initiatives)? You need a full funnel higher education marketing strategy!
Traditional campus marketing is one important facet of a holistic higher education marketing campaign. In fact, although our world is becoming ever more digital, conventional advertising strategies continue to play a crucial role in marketing to millennials and Gen Z audiences.
Campus advertising campaigns allow you to target your marketing efforts geographically. College students are a captive audience – living, learning, working, eating, shopping and socializing within a limited area. Strategically placed ads concentrate your campaign on your intended viewership and generate repeat exposure. The visual impact delivers even more bang for your buck. Best of all, you can't turn traditional campus advertising off, scroll past it, or fast forward through it.
Regardless of time frame or budget, there's a campus advertising option that fits your needs and will help you meet your goals. Join us as we explore the top five campus advertising strategies for college recruitment campaigns.
#1 OOH Media
As you might expect, OOH or out-of-home media is advertising that reaches consumers outside of their homes. While it encompasses much of the marketing techniques included in this article, for now we'll focus on large format OOH advertising - billboards, signs, wall panels, murals etc. These types of ads can be placed almost anywhere including along roadways, on newsstands and kiosks, and both inside and outside of shopping malls, stadiums, movie theaters, convenience stores, gyms, bars, restaurants and gas stations.
Digital OOH messaging is a newer development in this field. Not to be confused with online advertising, digital OOH media uses physical screens to display electronic messages. These digital billboards and signs can be activated and changed more quickly than traditional signage and may include features like scrolling, countdowns and live updates. A recent article from Marketing Dive estimates the number of digital out-of-home advertising (DOOH) screens in America today to be about 220,000.
According to Darcy Keller, former Communication Head at The Financial Times, the objective of OOH media is to build awareness and increase engagement. The Out of Home Advertising Association of America explains that "OOH goes where most other media can't go to surround and immerse consumers out of home, where they spend 70 percent of their waking hours." That explains why this traditional form of advertising is still wildly successful if executed correctly.
Here's an example of a highly successful campus focused marketing campaign that utilizes large format signage: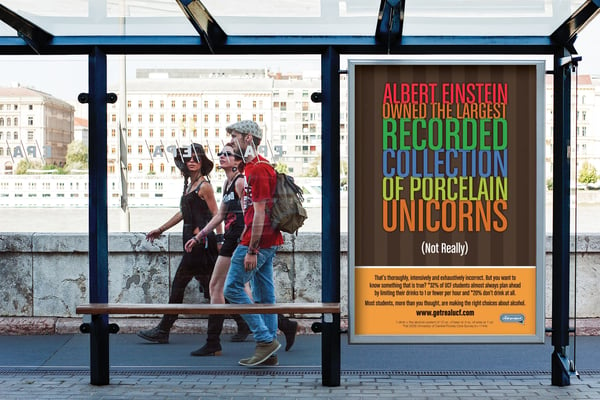 #2 Transit Advertising
Transit advertising is OOH advertising that is placed in or on any mode of public transportation, from buses to shuttles, trains to taxis to trucks. It can also be situated in or on public transportation areas like train stations, bus stops, airports, subways and even bike racks. Sizes and types of signage vary from small interior cards to larger wall panels to bus wraps.
Aside from being an important way to reach almost any type of target audience, transit advertising is one of the most effective advertising mediums for reaching students during the back-to-college season (or any time school is in session). After all, students are often on-the-go between classes, work, home and recreational activities.
It's worth nothing that some city buses are assigned specifically to college routes. If you're planning to incorporate bus signage in your college recruitment campaign, you may want to ask the transit company if you can put your signs in those particular buses to really zero in on your target audience.
#3 Postering
While it may seem simplistic, there are several benefits to advertising with posters. First of all, posters can be placed in areas where larger advertising formats aren't an option. Shopping centers, bookstores, cafes, libraries, student unions, dorms, academic buildings and breezeways are all possible locations for postering.
Secondly, posters are an excellent way to build rapid exposure comparatively cheaply. They're quick and easy to print and don't require specialty installation. Overall, they're an extremely cost-effective option for reaching audiences in high footfall areas.
Most interestingly, according to CEO Today, "statistics have shown that traditional print media including newspapers, magazines and poster advertising are highly trusted sources, much more so than online advertising and social media. Posters, in particular, have always appeared in public places, which seems to make them more visible and trustworthy than other forms of advertising."
Here's an example of a successful campus poster campaign: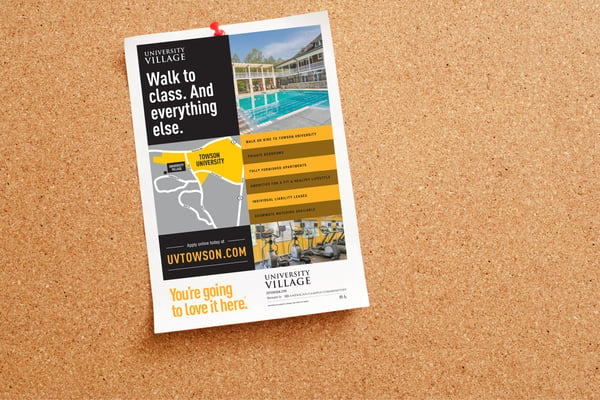 #4 Campus Newspaper Ads
Campus newspaper ads are another form of advertising media that benefits from the increased public trust for traditional print newspaper. In fact, because student newspapers are community news sources, they are likely to engender even greater levels of trust than poster campaigns. Readers perusing the paper for information are likely to view the included advertisements with the same open mind with which they approach the articles themselves.
Since student newspapers are a very localized advertising medium, ads can be tailored specifically to each target audience for maximum effect. Additionally, because newspaper ads are well retained after a single reading, you can save money on running the same advertisement repeatedly.
Given the fact that 72-80% of college students regularly read their student newspaper, it should come as no surprise that student newspapers are thriving despite today's digital-first media environment, making print ads a critical medium to engage students.
#5 Chalk Art & Graffiti
Guerrilla marketing like chalk art and graffiti is another low-cost form of campus advertising. Its authenticity and creativity speak to the soul of young target audiences. Create entertaining and surprising images to leave a lasting impression while high traffic locations make for fantastic repeat exposure. From sidewalks to streets to walls, with this advertising medium, the world is your canvas.
Clean graffiti or reverse graffiti has special relevance for millennials and Gen Z audiences. This unique and environmentally friendly form of outdoor media allows you to create images on streets and walls by removing grime from their surfaces. These ads create a definite buzz and position your institution as the type of innovative beacon of social responsibility with which students love to align themselves.
MSSmedia has mastered the art of Reverse Graffiti during the years, working with many clients to deliver personalized and original clean graffiti pieces.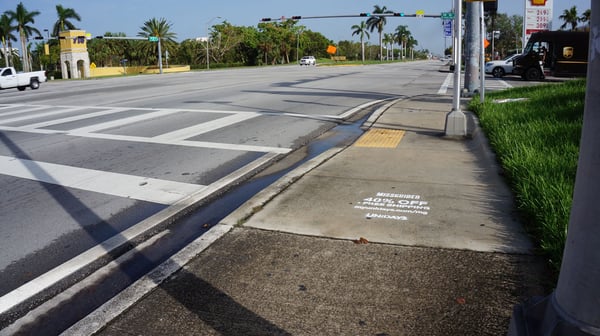 + See successful campus advertising campaign case studies.
Final Advice for a Successful OOH Media Campaign
OOH advertisements are often seen in passing, giving advertisers only seconds to capture people's attention. Here are some key strategies to ensure that your campus recruitment campaign will make an impression:
Strategize: During the design and placement process, focus on the primary purpose or goal of the advertisement.
Engage, Don't Confuse: Be clever, but not too clever. You want the audience to understand the advertisement and not be confused.
Keep it Short: Use few words; people only have a few seconds to read. The general advice is to stay between 6-8 words.
Keep It Simple: Make sure the font is large and easy to read from a distance.
Captivate: Choose large and engaging visuals with bright colors. People are more likely to remember pictures than words. Capitalize on that.
Locate Properly: Pick a high traffic site in an area where target audience frequents.
Finally, you may benefit from collaborating with an experienced agency who really knows this market. The campus market tends to be fragmented with many vendors and different rules than municipal markets. Every campus is different. An experienced agency knows what works, what's allowed, what's been done and what can be done. And when you engage a full-service media and PR agency, you can easily implement full-funnel marketing strategies that will provide the real results you're looking for.
Learn how to incorporate campus media marketing into a holistic marketing plan that will generate leads and increase enrollment.
Here at MSSmedia, we've been providing Education, Government, Real Estate & Lifestyle clients with succinct, optimized, and successful marketing solutions for more than 15 years. Consider MSSmedia a full-service, one-stop shop for all your Media and Public Relations needs. Your goals are our motivation. And our mission is to propel your message, further and faster, to achieve the outcomes you're looking for. If you found this blog post helpful, please share!
+

BE IN THE KNOW
We deliver the latest media tips + insider marketing advice straight to your inbox.