Campus Ads: Increase Website Traffic with Traditional Advertising
In today's digital age, it's easy to forget about the power of traditional advertising. But for businesses targeting students, conventional campus ads can be an extremely effective marketing tactic. Learn how to increase website traffic with traditional campus advertising.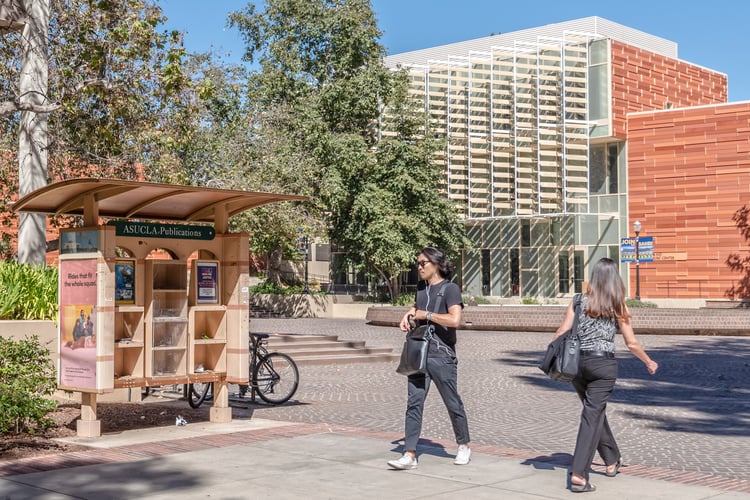 Directing your advertising efforts geographically is a smart move. College campuses concentrate your ideal audience in a small area as students live, eat, socialize and learn within a few square miles.
Signage in campus hangouts, university stores, bus shelters and on local transit routes is likely to garner a lot of valuable exposure and produce an excellent return on investment. The visual impact of traditional campus media also delivers impressive bang for your buck. Here are several ways to use campus ads to increase website traffic.
Use large format out-of-home (OOH) campus ads.
OOH media can be placed almost anywhere, including along roadways, on newsstands and kiosks, and both inside and outside of shopping malls, stadiums, movie theaters, convenience stores, gyms, bars, restaurants and gas stations. Popular campus locations include high-traffic areas like student unions, dorms, dining halls, lecture halls, libraries and bookstores.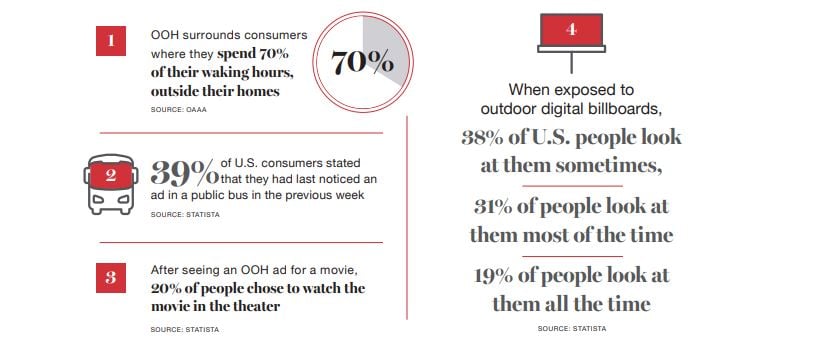 According to Darcy Keller, former Communication Head at The Financial Times, the objective of OOH media is to build awareness and increase engagement. The Out of Home Advertising Association of America explains that "OOH goes where most other media can't go to surround and immerse consumers out of home, where they spend 70 percent of their waking hours." That explains why this traditional form of advertising is still wildly successful if executed correctly.
"Every accomplishment starts with the decision to try."

- JOHN F KENNEDY
Use digital out-of-home (DOOH) campus ads.
DOOH is a newer development in the field of traditional campus media. Not to be confused with online advertising, DOOH ads use physical screens to display electronic messages. These digital billboards and signs can be activated and changed more quickly than traditional signage and may include features like scrolling, countdowns and live updates.
Use campus transit advertising.
Transit advertising is OOH advertising that is placed in or on any mode of public transportation. It can also be situated inside or outside areas like train stations, bus stops, airports, subways and even bike racks. Sizes and types of signage vary from small interior cards to larger wall panels to bus wraps.
Aside from being an important way to reach almost any type of target audience, transit advertising is one of the most effective advertising mediums for reaching students during the back-to-college season or any time school is in session. After all, students are often on the go between classes, work, home and recreational activities.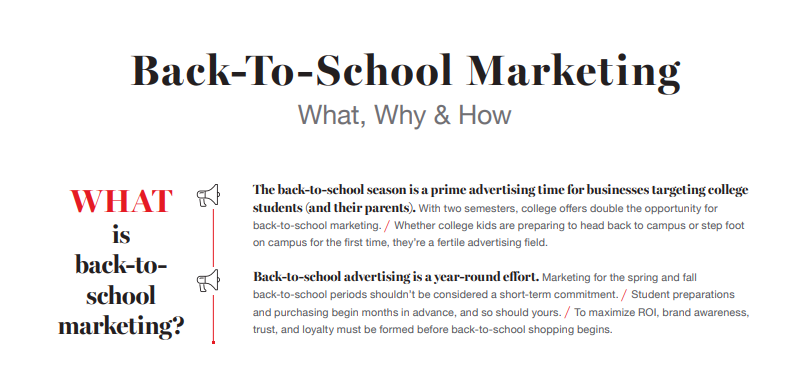 Try postering on campus.
While it may seem simplistic, there are several benefits to advertising with posters. First of all, posters can be placed in areas where larger advertising formats aren't an option. Shopping centers, bookstores, cafes, libraries, student unions, dorms, academic buildings and breezeways are all possible locations for postering.
Secondly, posters are an excellent way to build rapid exposure comparatively cheaply. They're quick and easy to print and don't require specialty installation. Overall, they're an extremely cost-effective option for reaching audiences in high footfall areas.
+ Learn more about OOH/DOOH, transit ads, and postering.
Use print advertising that targets students.
According to CEO Today, "Statistics have shown that traditional print media including newspapers, magazines and poster advertising are highly trusted sources, much more so than online advertising and social media."
When choosing a print publication, make sure it's one that your target audience reads. Businesses targeting young adults may want to consider student newspapers. Because these publications are community news sources, created by students for students, they are likely to engender even greater levels of trust than other types of print media.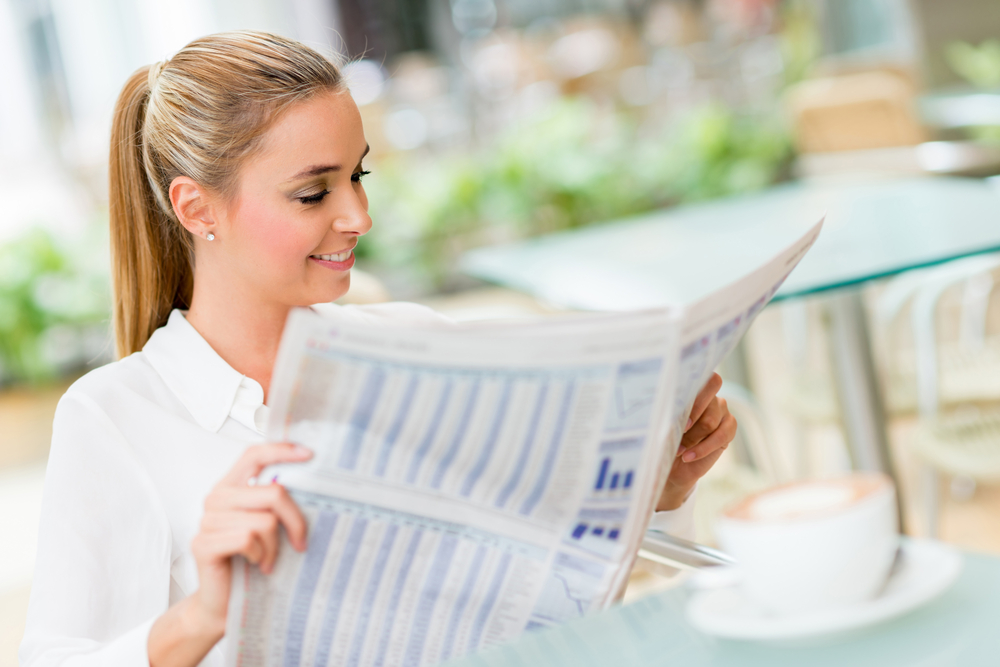 Engage student audiences with event marketing.
Millennials and members of Generation Z are seeking opportunities for connection. Therefore promoting your business or brand at in-person campus events is an excellent way to reach young adult audiences.
You can engage in effective university marketing by setting up a table for campus tours, speaking events, open houses, info sessions, athletic events and other on-campus activities. These are great times to interact with current students, potential students, their parents and other influential people. In addition to sharing your brand and company or program information and benefits, consider handing out something tangible to make your presence both appreciated and memorable.
+ Learn more about using print advertising and event marketing to engage students.
Here are some additional tips for using traditional advertising to increase website traffic:
Make sure your ads are relevant to your target audience.
Use strong calls to action, such as "Visit our website today!" or "Sign up for our newsletter."
Track the results of your advertising campaigns so you can see what's working and what's not.
Be patient. Traditional advertising takes time to build results.
Most importantly, make sure your OOH or print ad includes your website address!
With a little time and effort, you can use traditional advertising to reach more of your ideal audience and increase website traffic.
Are you ready to create your own successful campus media campaign? See our complete guide to advertising to university students.
Here at MSS Media, Inc., we've been providing Education, Government, Real Estate & Lifestyle clients with succinct, optimized, and successful marketing solutions for more than 15 years. Consider MSS Media, Inc. a full-service, one-stop shop for all your Media and Public Relations needs. Your goals are our motivation. And our mission is to propel your message, further and faster, to achieve the outcomes you're looking for. If you found this blog post helpful, please share!
+

BE IN THE KNOW
We deliver the latest media tips + insider marketing advice straight to your inbox.