Campus Advertising for Student Housing Companies
Whether you're looking to increase brand awareness, attract more qualified applicants, maintain your market share, or optimize leasing occupancy, effective campus advertising helps you meet your student housing property marketing goals.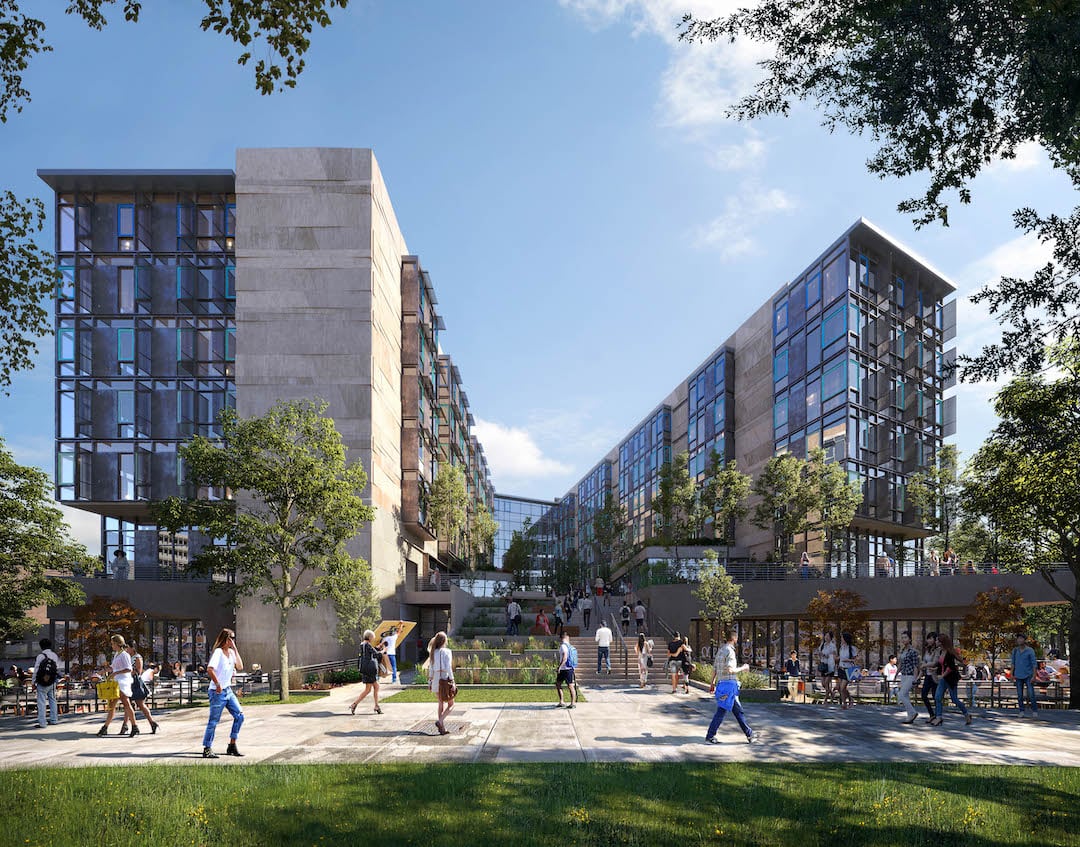 Traditional campus advertising delivers occupancy campaign results.
Targeting your advertising efforts geographically is a smart move. Strategically placed outdoor and transit advertising, print advertisements, event marketing, chalk art and graffiti concentrate your campaign on your chosen audience and generate repeat exposure. The visual impact of physical media delivers even more bang for your buck. Best of all, you can't turn traditional campus advertising off, scroll past it, or fast forward through it.
"If you have built castles in the air, your work need not be lost; that is where they should be. Now put the foundations under them."

– HENRY DAVID THORAEU
Out-of-home Advertising
Out-of-home media (OOH) consists of billboards, signs, wall panels, murals, etc. These ads can be placed almost anywhere including newsstands and kiosks, dorms, cafeterias, book stores, stadiums, gyms, bars, restaurants and gas stations.
Digital OOH messaging is a newer development in this field. Not to be confused with online advertising, digital OOH media uses physical screens to display electronic messages. These digital billboards and signs can be activated and changed more quickly than traditional signage and may include features like scrolling, countdowns and live updates.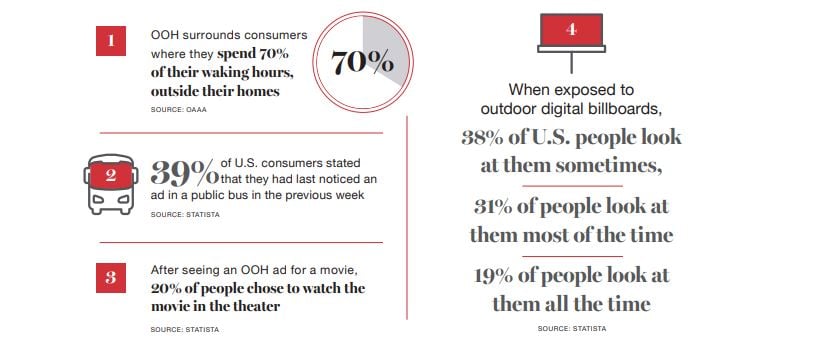 Transit Advertising
Transit advertising is OOH advertising that is placed in or on any mode of public transportation - from buses and shuttles to trains and taxis. It can also be situated in or on areas like train stations, bus stops, subways and even bike racks. Sizes and types of signage vary from small interior cards to large wall panels to bus wraps.
Transit advertising is one of the most effective ways to reach college students any time school is in session. After all, students are often on-the-go between classes, work, home and recreational activities.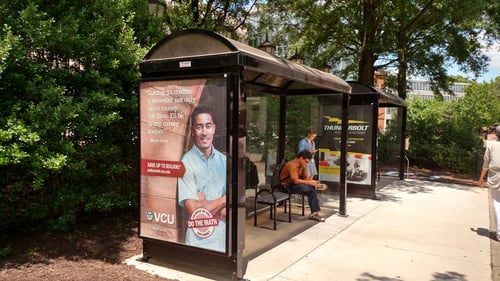 Postering
While it may seem simplistic, there are several benefits to advertising with posters. Posters can be placed in areas where larger advertising formats aren't an option. Shopping centers, bookstores, cafes, libraries, student unions, dorms, academic buildings and breezeways are all possible locations for postering.
Posters are also an excellent way to build rapid exposure comparatively cheaply. They're quick and easy to print and don't require specialty installation. Overall, they're an extremely cost-effective option for reaching audiences in high footfall areas.
+ Learn more about the value of OOH/DOOH, transit ads & postering.
Campus Newspaper Ads
Campus newspaper ads are another way to reach potential renters on budget, with precision, quickly and effectively. Readers perusing the paper for information are likely to view the included advertisements with the same open mind with which they approach the articles themselves. Additionally, because newspaper ads are well retained after a single reading, you can save money on running the same advertisement repeatedly.
Event Marketing
Today's young people are seeking opportunities for connection - moments that they can discover and share. You can engage in effective student housing property marketing by setting up a table at campus tours, speaking events, open houses, info sessions, athletic events, and other in-person campus activities. These are great times to interact with potential renters (and their parents, who often hold the purse strings).
+ Learn more about the value of student newspaper ads and tabling events.
Chalk Art & Graffiti
Sidewalk art, chalk art, stenciling, clean graffiti and graffiti walls allow you to reach your audience in fun, surprising and unique ways that leave a lasting impression and resonate with young adults.
Created by writing a message on a dirty sidewalk using pressured water and a stencil, clean graffiti has particular relevance for millennials and Gen Z. This environmentally friendly form of outdoor media creates a buzz and positions your company as an innovative beacon of social responsibility.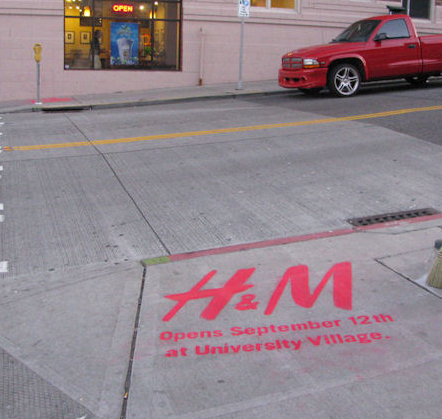 Digital campus media also plays an important role in student housing property marketing.
It's no secret that teenagers and young adults spend a lot of time online, primarily on smartphones. To achieve optimal results, we incorporate both traditional and geo-targeted digital media in our campus advertising campaigns. This extends campaign reach while each piece amplifies the effects of the others.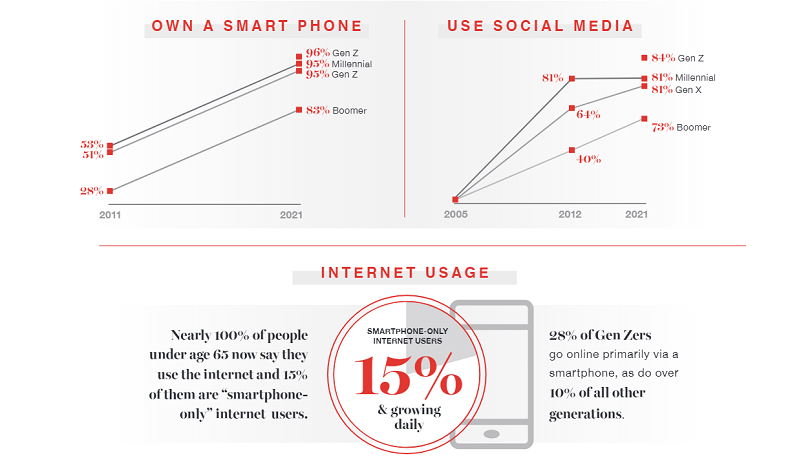 Location Targeting
The ability to implement location targeting is one of the best features of digital advertising. Using geo-targeted pay-per-click ads (local PPC) diminishes wasted ad spend significantly. Geo-targeted PPC is easy to set up, easy to track, and flexible. You can set your budget, target locations, and keywords however you'd like and adjust them as necessary.
Mobile Optimization
To ensure maximum impact, all digital student housing ads (search, display, video, and social) should be optimized for a mobile setting. This ensures that they load quickly and are easily viewed on a small screen.
+ Conduct a successful mobile ad campaign for a college audience.
Emerging Media
Include emerging media platforms in your digital campus advertising campaigns. While established social media platforms like Facebook and Twitter still have plenty of traffic, teenagers and young adults are increasingly turning to emerging platforms like Snapchat and TikTok. In fact, the most popular social media sites among teenagers in 2022 were TikTok, Instagram and Snapchat (in that order).

Video/YouTube
Video is an incredibly effective advertising tool, especially for those looking to engage younger generations. In fact, members of Gen Z stream an average of 23 hours of video each week and YouTube topped teens' online landscape in 2022. Well-produced and informative videos convey volumes about your property's features and benefits, and online videos are easily shared via social media.
Looking for more information on how to run a successful campus media campaign? See our complete guide to advertising to university students.
Here at MSS Media, Inc., we've been providing Education, Government, Real Estate & Lifestyle clients with succinct, optimized, and successful marketing solutions for more than 15 years. Consider MSS Media, Inc. a full-service, one-stop shop for all your Media and Public Relations needs. Your goals are our motivation. And our mission is to propel your message, further and faster, to achieve the outcomes you're looking for. If you found this blog post helpful, please share!
+

BE IN THE KNOW
We deliver the latest media tips + insider marketing advice straight to your inbox.