College Media Strategies: Execute a Consideration Campaign On Campus
Marketing campaigns are not one size fits all. The specific college media strategies you should employ depend on your goals, your audience, and the tactics available to you. Join us to learn how (and why) to execute a consideration campaign on campus.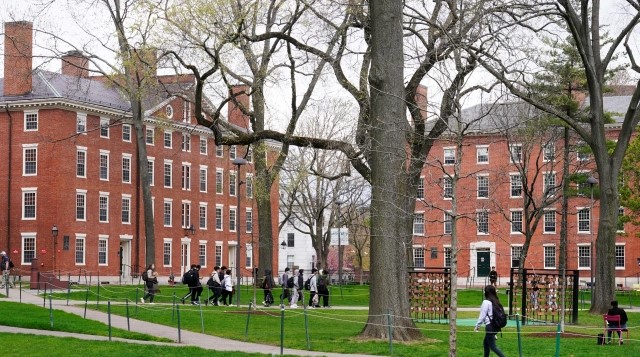 Why run a consideration campaign on campus?
To achieve success in any marketing endeavor, you must understand your precise goals and plan a campaign that will allow you to achieve them. Our marketing toolkit will help you establish your campaign goals.

The goal of a consideration campaign is to win over potential customers who know who you are and what they want. In terms of the buyer's journey, this is Stage 2. They have passed Stage 1 (Awareness) and now you must keep them interested in your business and nurture them on to Stage 3 (Engagement).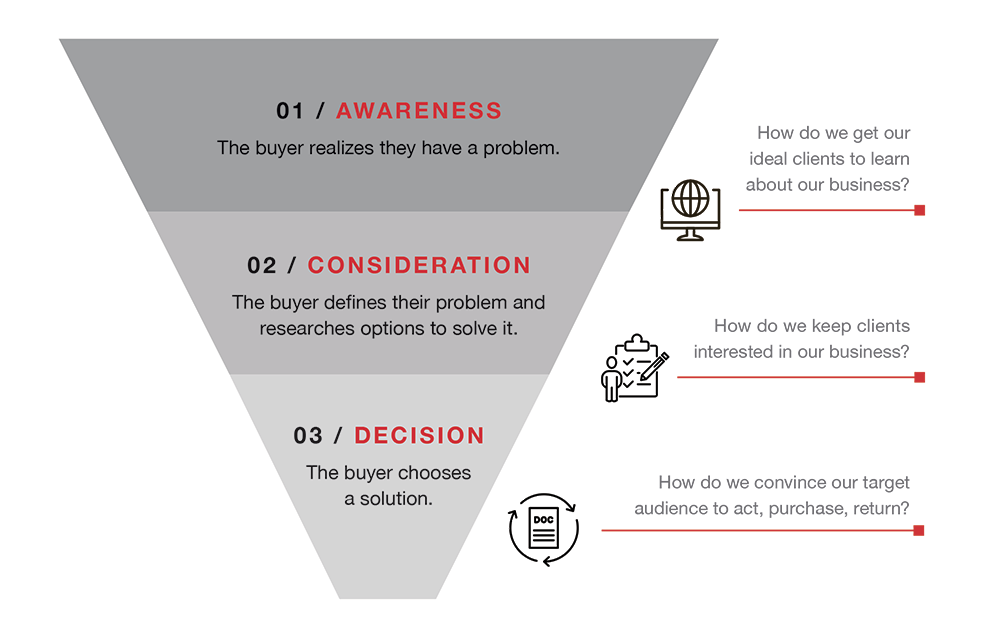 How can you run a successful campus consideration campaign?
Like all college media strategies, effective campus consideration campaigns depend on choosing messaging and media that reach your target audience and resonate with them.
"To a generation that values people and relationships so highly, fostering relationships with Gen Z is essential."

– AXIS
Campus Consideration Campaign Messaging
Remember, at this stage of the buyer's journey, you're nurturing a lead. You must build a relationship with your audience, establishing trust between them and your brand. Ensure that your messaging hones in on how your customers will benefit from what you're offering. Provide information on the pros and cons of your products/services in comparison to the competition.
Campus Consideration Campaign Media
Supply resources to help the buyer determine which choice is right for them. Content formats for the consideration stage include blog posts, social media posts and advertisement, whitepapers, checklists, how-to videos, free samples, ebooks, infographics and webinars.
Campus Consideration Campaign Platforms
Platforms/channel choice for consideration campaigns depends on audience preference, brand engagement etc. Depending on your business and target consumer, the channels you utilize may include your website, blogging, search engine marketing, email marketing, and social media marketing.
+ Explore the social media habits of college students.
A successful campus consideration campaign in action:
University Village Towson wanted to amplify awareness of their property in the market and lead potential renters to consider the value of their apartments. Specifically, they were looking to increase website traffic to assist in student housing occupancy and improve their "heads on beds" numbers.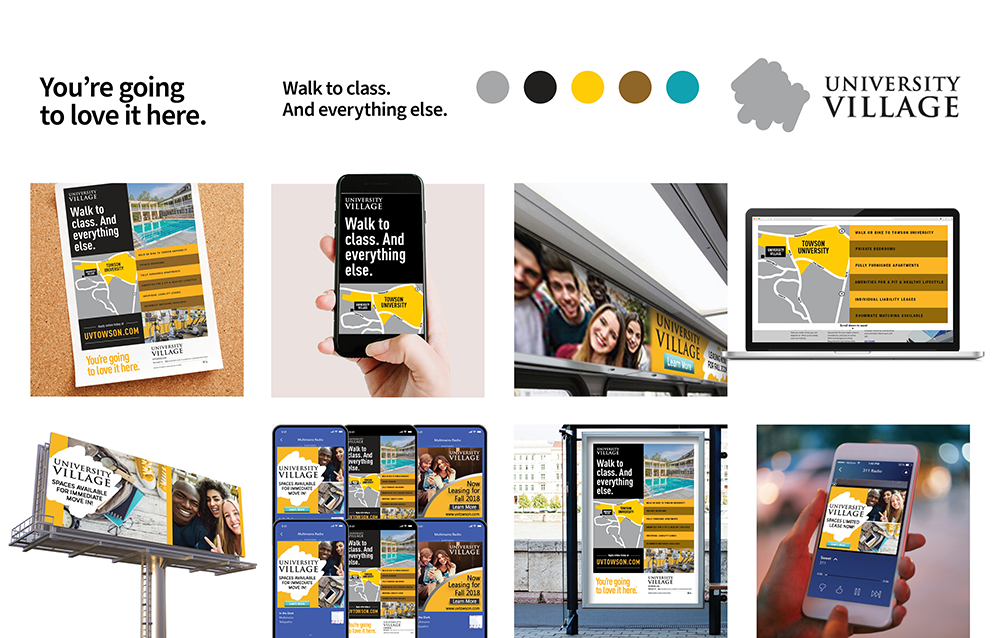 We helped University Village Towson identify a specific buyer persona for their target audience. Marketplace and competitor research provided valuable insights into what else was available in the market and the ways that University Village Towson outstrip their competition.
To achieve optimal results, we incorporated both traditional transit campus advertising and digital geo-targeted advertising. This type of integrated campaign extends reach as each piece of the campaign amplifies the efforts of the others.
We employed traditional media in the form of posters, billboards, transit advertising, and bus shelter signage, taking advantage of the excellent bang-for-your-buck of campus out-of-home (OOH) advertising.
+ Learn the value of OOH/DOOH, transit ads & postering.
Using in-app mobile proximity targeting, we geofenced the Towson University campus and competing properties to get the attention of those prospects looking for apartment rental options close to campus. We included our own landing page in order to increase engagement with those that clicked on the banner image, allowing them to not only go to the website, but also to call or ask for directions directly from the page.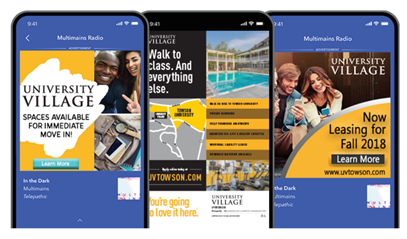 By coupling a variety of OOH advertising strategies with in-app mobile proximity targeting, University Village Towson maximized exposure to their target millennial and Gen Z audience. Above-average Click Through Rates and Secondary Action Rates led to increased interest and inquiries in the property. Due to the success of this initial campaign, University Village Towson continues these efforts year after year.
Looking for more information on how to run a successful campus media campaign? See our complete guide to advertising to university students.
Here at MSS Media, Inc., we've been providing Education, Government, Real Estate & Lifestyle clients with succinct, optimized, and successful marketing solutions for more than 15 years. Consider MSS Media, Inc. a full-service, one-stop shop for all your Media and Public Relations needs. Your goals are our motivation. And our mission is to propel your message, further and faster, to achieve the outcomes you're looking for. If you found this blog post helpful, please share!
+

BE IN THE KNOW
We deliver the latest media tips + insider marketing advice straight to your inbox.