How To Increase College Enrollment With Advertising
Despite the growing number of majors and universities throughout the United States, college enrollment has experienced a decline in recent years, according to the National Student Clearinghouse Research Center. Here at MSSmedia, we deliver college recruitment campaigns that help increase college enrollment, in addition to promoting specific majors, programs and recreational activities on campuses.
As marketing mavens and campus media experts, we've put together several tips on how colleges and universities can generate engagement and establish a strong footprint in the campus space and beyond.
This mobile and out-of-home (OOH) branding campaign we ran for the College of Nursing at the University of Houston is an excellent example of a successful college advertising campaign.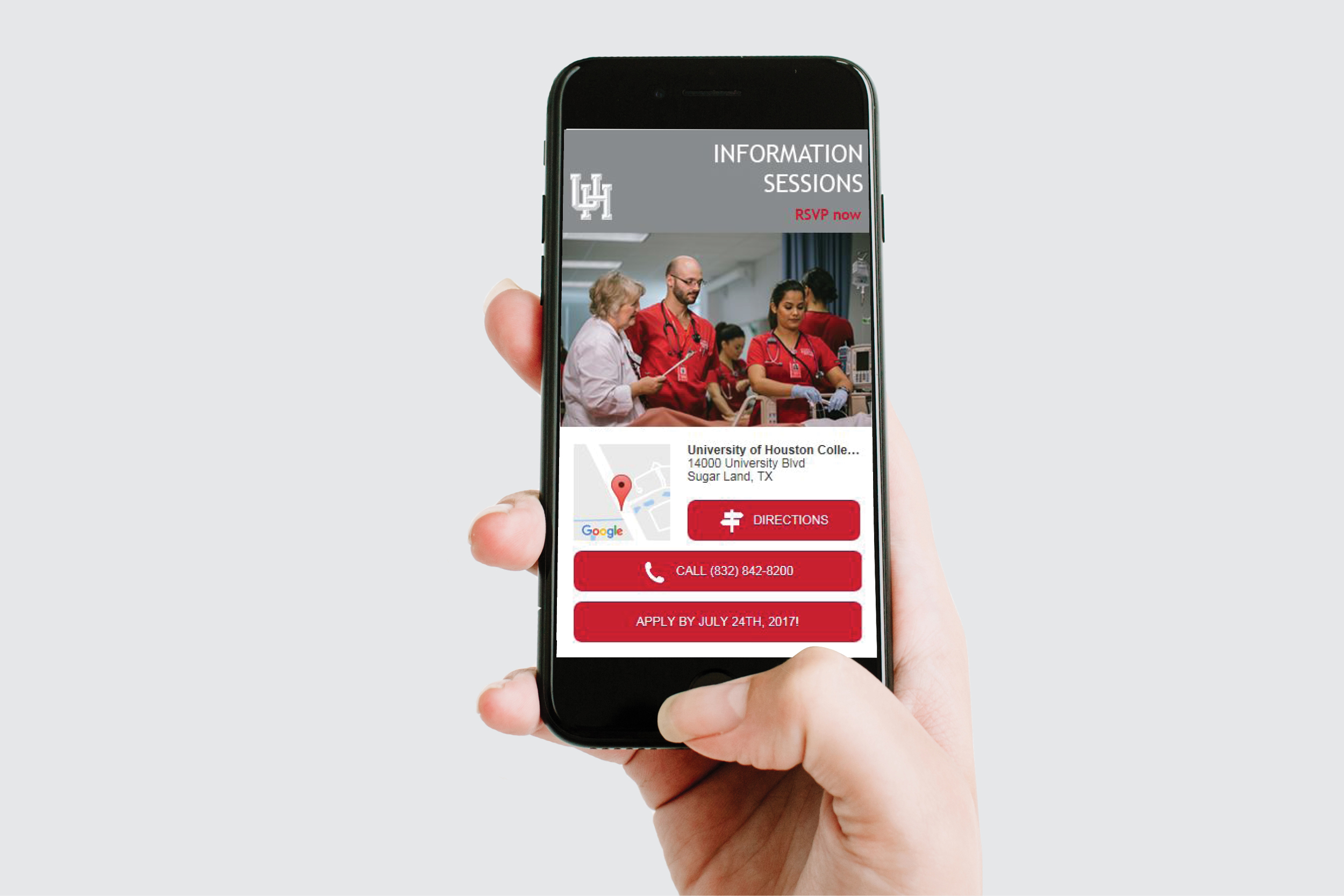 START YOUR STUDENT RECRUITMENT ACTIVITIES ASAP
As a college or university, you may need to devote more time to recruiting at lower grade-levels (such as high school sophomores) rather than trying to get students' attention as seniors. Engaging scholars at a younger age has proven to be useful in establishing relationships between higher education institutions and students.
For instance, emailing high school underclassmen with exciting news about your institution (or sharing it over social media) will help build trust, loyalty and a sense of enthusiasm over time. Make young people feel special and let them imagine the campus experience they will soon be living.
We provide our university and college partners with both traditional and non-traditional advertising campaigns. From high-impact OOH sign campaigns to geo-targeted mobile ads to social media advertising services, we deliver the support that our higher education clients need in order to meet and even exceed their objectives.
Here are just a few of the clients who have benefited from our higher education media and PR services: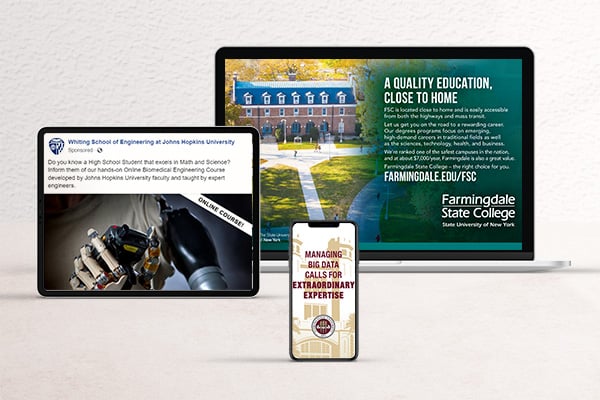 RUN A MOBILE COLLEGE RECRUITMENT CAMPAIGN
Since billions of people interact on their cell phones nowadays, mobile advertising is an optimal way for colleges and universities to target students and increase enrollment. After planning out your campaign objectives, choose a few social media channels to use for student engagement.
+ See our mobile internet stats infographic.
Whether you choose Instagram, Facebook, Twitter or something else, keep in mind that you don't need them all. Focus on choosing the platforms that will best help you achieve your goals rather than spreading yourself thin across too many social media spaces.
+ See recent paid social advertising stats.
At MSSmedia, we help clients understand the right social media plan to establish trust and generate engagement among students. From running mobile campaigns, to helping increase enrollment applications, to mobile optimized efforts to deliver high impressions and website traffic, we have our schools covered.
+ Learn more about our digital media services.
FOCUS ON OUT-OF-HOME AND HYPER-LOCAL CAMPAIGNS
OOH advertising, contrary to popular belief, is not dead. Notably, it is still essential for the success of universities and college marketing initiatives because it builds credibility and increases visibility among prospective students.
Another great way to drive enrollment numbers is scheduling hyperlocal campaigns - the process of targeting customers in a geographically restricted area, such as streets or districts. Hyperlocal campaigns can help you reach your goals as they drive substantial traffic to specific locations and have strong commercial intent. To see this in action, try searching for universities and colleges on your mobile phone while you're in a particular area. Chances are you will automatically see the ones closest to you first.
At MSSmedia, we have capitalized on the out-of-home space, becoming experts on traditional advertising and incorporating it into a full-funnel marketing approach. This holistic strategy combines high impact outdoor signage with mobile geo-targeted ads. These campaigns drive website traffic and increase enrollment applications.
For example, we helped Florida State University College of Business with a campaign to drive website traffic and increase applications to their Masters of Businesses Analytics Program. High-impact outdoor signage combined with mobile geo-targeted ads delivered impressive results.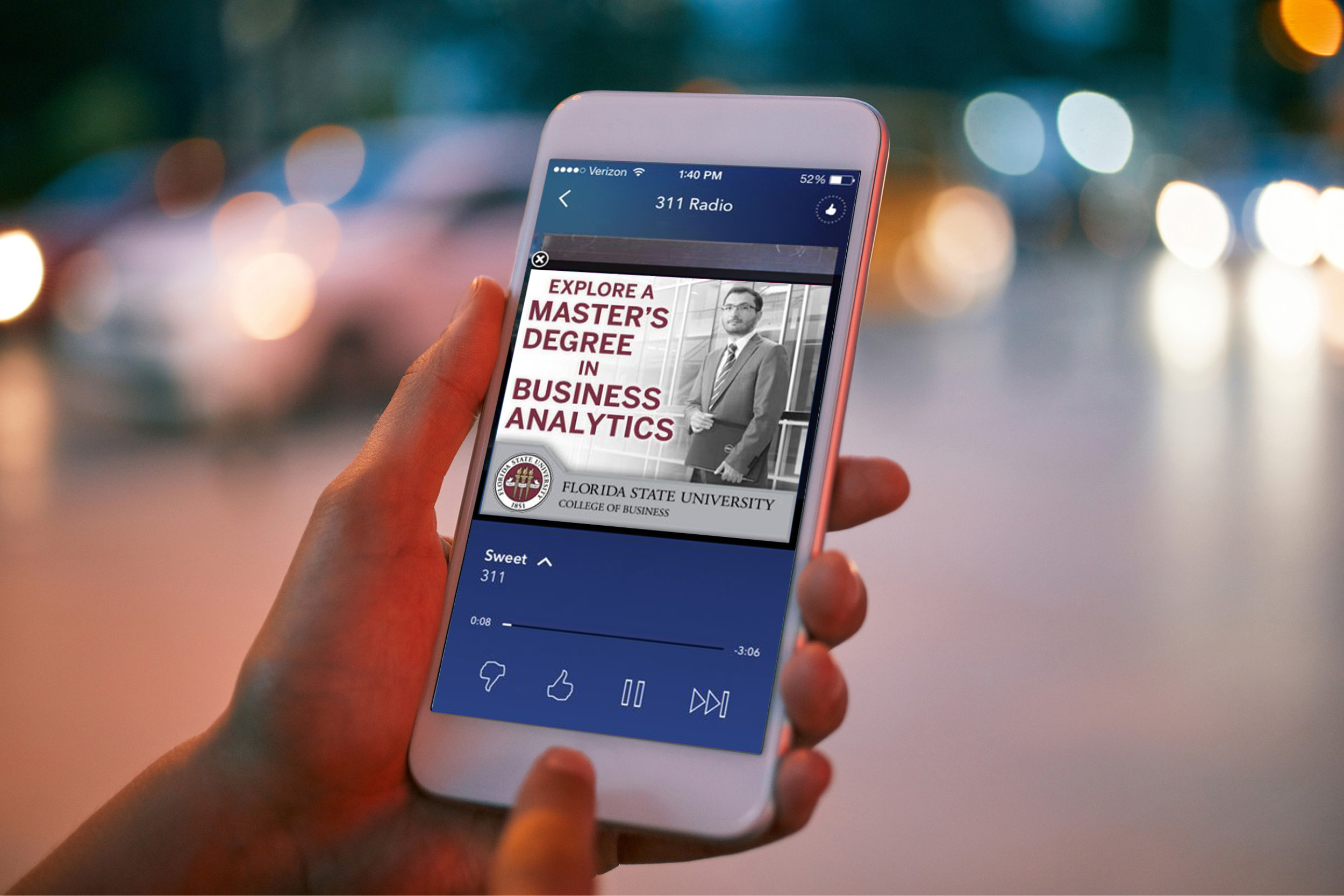 Here at MSSmedia, we've been providing Education, Government, Real Estate & Lifestyle clients with succinct, optimized, and successful marketing solutions for more than 15 years. Consider MSSmedia a full-service, one-stop shop for all your Media and Public Relations needs. Your goals are our motivation. And our mission is to propel your message, further and faster, to achieve the outcomes you're looking for. If you found this blog post helpful, please share!
+

BE IN THE KNOW
We deliver the latest media tips + insider marketing advice straight to your inbox.