Effective College Media Strategies: Online Advertising
When it comes to effective college media strategies, you can't go wrong with online advertising. When used appropriately, this tactic not only offers powerful reach and engagement, it's also extremely cost effective! Explore the benefits of online advertising as part of a successful campus marketing plan.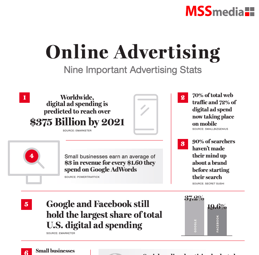 Digital Campus Media Campaigns - Benefits & Options
The vast majority of university attendees are deeply enmeshed in the digital landscape, making online advertising one of the top college media strategies.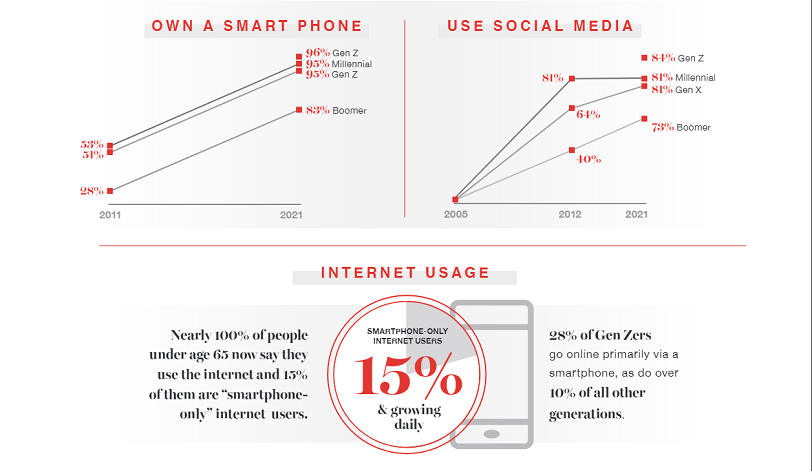 Digital campus media campaigns can help you achieve a variety of business goals across the marketing funnel, ranging from brand awareness, to customer engagement, to increased sales. Not only that, you can target your digital ads in incredibly specific ways, optimize them almost effortlessly, and track their effectiveness with amazing precision.
Digital advertising campaigns can be extremely cost effective in comparison to radio or TV advertising. There are options available for every budget. By combining traditional and digital campus advertising tactics, you extend your reach while each part of your marketing campaign amplifies the efforts of the others.
"Almost overnight, the Internet's gone from a technical wonder to a business must."

– BILL SCHRADER
Tactics for digital campus media campaigns run the gamut, from search and display advertising to social media marketing. Today, we're going to take a deep dive into online advertising for a university audience.
Read the other posts in our "Types of Campus Media" series:
Digital Campus Media Campaigns - Online Advertising
Online advertising is a multi-faceted component of a digital campus media campaign. It aims to reach a business's target audience through search and/or display ads on web browsers, social media platforms and other websites.
Search engine advertising allows advertisers to bid for ad placement in a search engine's sponsored links. These links appear at the top of the results list when someone searches for a keyword that is related to the advertiser's business offering. Display ads utilize static images, GIFs, or video. These banner advertisements are served to the audience of your choice on the website(s) of your choice. Display ad campaigns are an excellent way to re-engage users that have visited your website and help build brand awareness.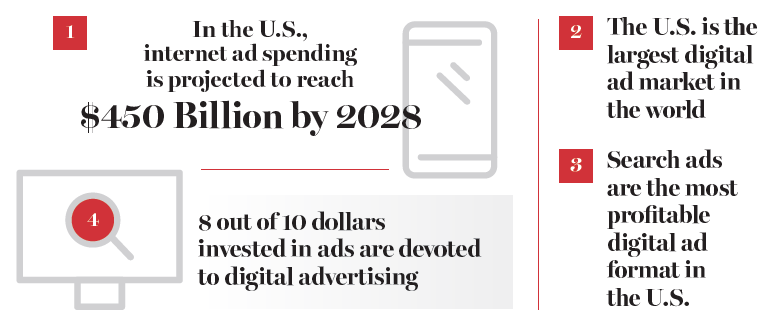 The Most Effective Online Advertising Channels
The best online advertising channels today are Google/YouTube, Bing, and social media platforms (Facebook, Instagram, LinkedIn, and Twitter). For a college audience, Google/YouTube and certain social media platforms are particularly relevant.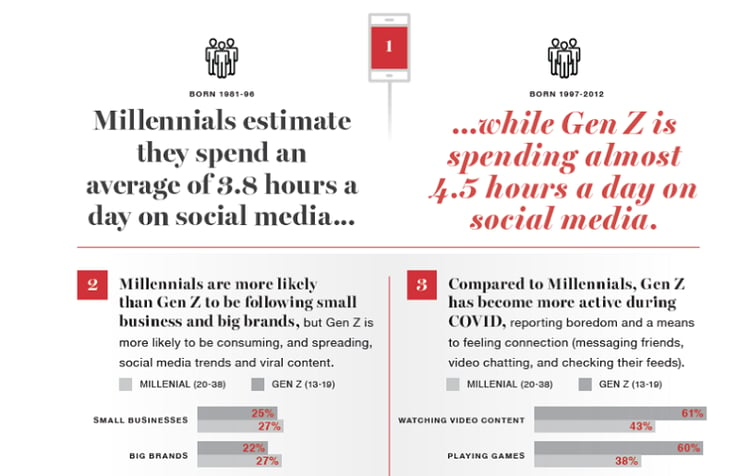 Google
Although Gen Z and millennial audiences spend a lot of time on social media, when they're ready to purchase, they go to Google. On average, there are 5.6 billion search queries per day on Google. And by the time the search query leads to you, the buyers have intent. So don't forget to include a Google strategy in your digital plans.
YouTube
YouTube is the second most visited website worldwide, with more than one billion monthly users who collectively watch more than one billion hours of videos each day. This is a platform businesses should not ignore, and is a great channel to provide awareness and drive leads at a lower price.
Social Media
Most social media platforms (including Facebook, Instagram, LinkedIn, Twitter, Snapchat, and TikTok) allow businesses to purchase and place paid advertisements. There's a reason why social advertising revenues reached $41.5 billion in 2020 - it works! Approximately 30% of internet users say they find new products and brands through paid social ads.
+ Learn more about the social media habits of college students.
Whichever online advertising platforms and tactics you choose to include in your digital campus media campaigns, with proper planning and implementation you can expect increased engagement from your target audience. Looking for more information on how to run a successful digital campus media campaign?
See our complete guide to advertising to university students.
Here at MSS Media, Inc., we've been providing Education, Government, Real Estate & Lifestyle clients with succinct, optimized, and successful marketing solutions for more than 15 years. Consider MSS Media, Inc. a full-service, one-stop shop for all your Media and Public Relations needs. Your goals are our motivation. And our mission is to propel your message, further and faster, to achieve the outcomes you're looking for. If you found this blog post helpful, please share!
+

BE IN THE KNOW
We deliver the latest media tips + insider marketing advice straight to your inbox.