The Top 3 Campus Media Strategies
In today's rapidly changing and increasingly digital landscape, businesses often struggle to choose the marketing tactics that will help them achieve their desired results. Companies trying to reach younger audiences may be tempted to abandon traditional advertising tactics in favor of an entirely virtual approach. However, when done correctly, campus advertising remains a highly effective way to reach and engage teenagers and young adults. Learn the top three campus media strategies for advertising to university students.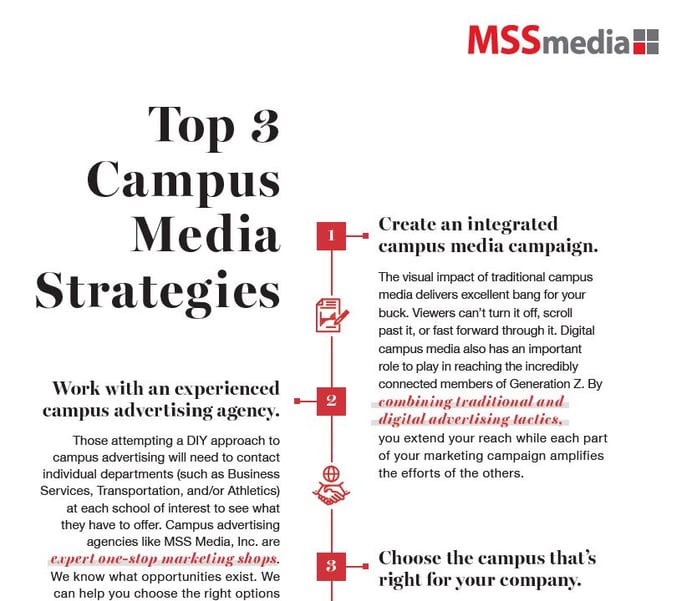 #1 Create an integrated campus media campaign.
The visual impact of traditional campus media delivers excellent bang for your buck. Viewers can't turn it off, scroll past it, or fast forward through it.
+ Learn why traditional campus media delivers excellent ROI.
Digital campus media also has an important role to play in reaching the incredibly connected members of Generation Z. By combining traditional and digital advertising tactics, you extend your reach while each part of your marketing campaign amplifies the efforts of the others.
+ Learn more about the value of digital campus media campaigns.
#2 Work with an experienced campus advertising agency.
Those attempting a DIY approach to campus advertising will need to contact individual departments (such as Business Services, Transportation, and/or Athletics) at each school of interest to see what they have to offer.
+ Learn how to advertise on campus.
Campus advertising agencies like MSS Media, Inc. are expert one-stop marketing shops. We know what opportunities exist. We can help you choose the right campus media strategies for your marketing budget and goals. And we have the contacts, staff, and processes in place to implement campus ad campaigns quickly and effectively.
#3 Choose the campus that's right for your company.
What's right for one company may not be right for another. Consider factors like the size and location of the campus, the makeup and interests of the student population, brand affinity, and the advertising options available. For small local businesses, looking to the largest campus in your market can be a great way to build brand awareness and bring in a new customer base. For brands of scale/national companies, the size of the school, notoriety, or market DMA may dictate where your college media buy should occur.
"An investment in knowledge pays the best interest."

- BENJAMIN FRANKLIN
See our complete guide to advertising to university students.
Here at MSS Media, Inc., we've been providing Education, Government, Real Estate & Lifestyle clients with succinct, optimized, and successful marketing solutions for more than 15 years. Consider MSS Media, Inc. a full-service, one-stop shop for all your Media and Public Relations needs. Your goals are our motivation. And our mission is to propel your message, further and faster, to achieve the outcomes you're looking for. If you found this blog post helpful, please share!
+

BE IN THE KNOW
We deliver the latest media tips + insider marketing advice straight to your inbox.