Successful College Media Strategies: Integrated Campus Campaigns
When done correctly, campus advertising is a highly effective way to reach and engage teenagers and young adults. Creating an integrated campaign is one of the top three successful campus media strategies for advertising to university students. Learn why and how to create an effective integrated campus campaign.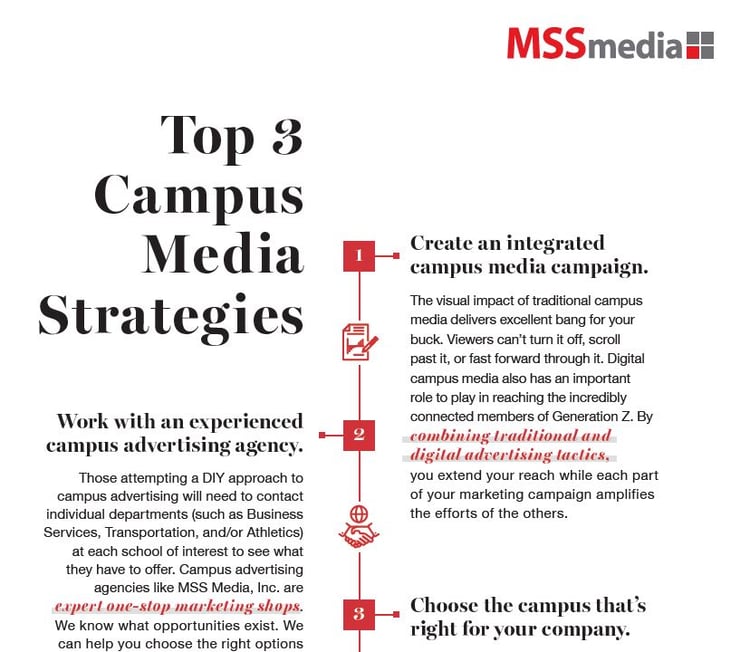 Campus advertising options truly run the gamut.
The visual impact of traditional campus media delivers excellent bang for your buck. From bike shelters to newspaper kiosks to bus wraps, offline campus ads have the power to gain outstanding exposure and impressions. As one of the first advertising touchpoints, physical media increases brand awareness and recognition.
In addition, the vast majority of university attendees are deeply enmeshed in the digital landscape, making the online platforms a vital part of your marketing efforts. Digital media can help you achieve a variety of business goals across the marketing funnel, ranging from brand awareness, to customer engagement, to launching new products and driving repeat sales. Not only that, you can target your digital ads in incredibly specific ways, optimize them almost effortlessly, and track their effectiveness with amazing precision.

Integrated campus campaigns multiply results.
By combining traditional and digital campus advertising tactics, you extend your reach while each part of your marketing campaign amplifies the efforts of the others. This is what makes integrated media campaigns one of the most successful college media strategies.
"Your brand is a story unfolding across all customer touch points."

– JONAH SACHS
The PESO model is a framework for integrating paid, earned, shared, and owned media to create a successful holistic marketing strategy.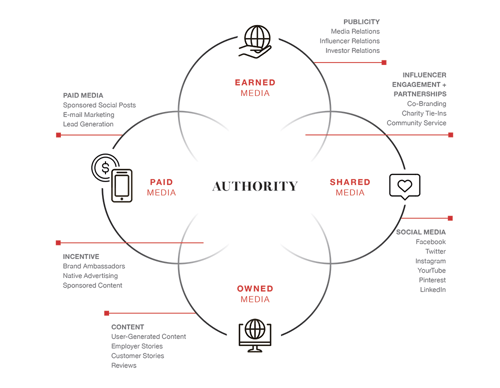 Traditional Campus Media Tactics:
Out-of-home advertising (OOH)
Digital out of home advertising (DOOH)
Transit advertising
Postering
Newspaper ads
Tabling events
+ Discover the specific benefits of OOH/DOOH, transit ads, and postering.
+ Learn how student newspaper ads and tabling events engage a crucial audience and deliver surprising results.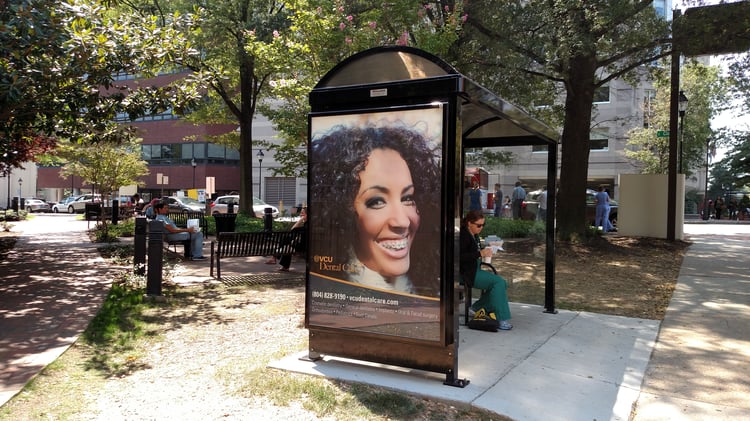 Digital Campus Media Tactics:
Online advertising
Mobile advertising
Geotargeting
Social media marketing
Search advertising
Display advertising
Campus audio advertising
Video advertising
+ Explore the benefits of online advertising as part of a successful campus marketing plan.
+ Discover the many ways to conduct a successful mobile advertising campaign for a college audience.
+ Increase reach and engagement using paid campus social media ads.
+ Reach the crucial young adult audience with one of the top college media strategies - campus audio advertising.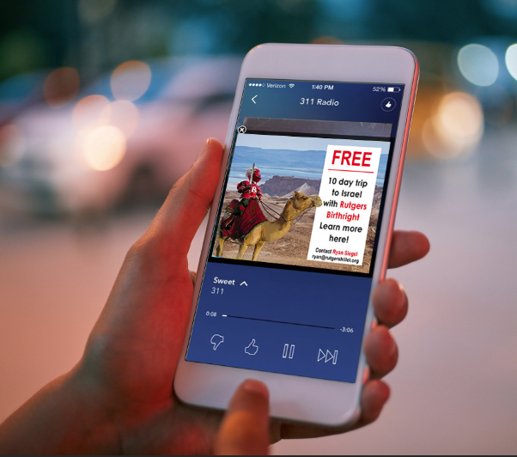 Sample Successful Integrated Campus Campaigns
Popular audio streaming platform Spotify wanted to drive awareness of their student discount and increase paid student subscriptions.
To achieve maximum return on their investment, we combined location-based mobile advertising with out of home (OOH) campus advertising. We purchased and placed traditional advertising on campus bus shelters in ten designated market areas. Geofenced mobile ads reinforced Spotify's OOH message, seamlessly bridging the gap between the physical and virtual world. This strategy amplified campaign reach and provided additional insights and measurement capabilities.
Our Spotify campaign was optimized for clickthrough rate (CTR). As a result of our integrated campaign strategy, Spotify achieved a measurable lift in CTR.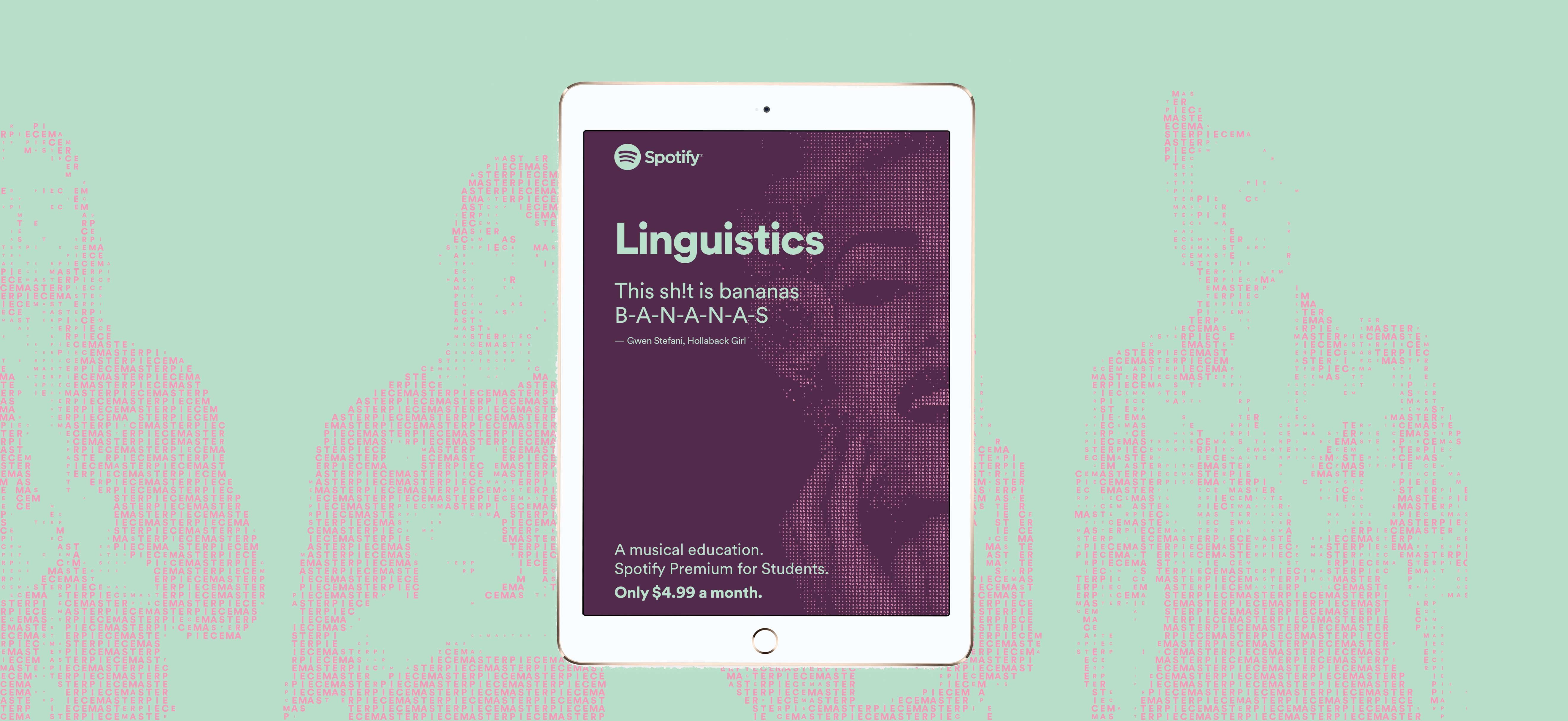 UH College of Nursing's Enrollment Campaign
The UH College of Nursing was looking to increase applications for their Second Degree Bachelor of Science in Nursing (BSN) programing and increase attendance at information sessions for their Master of Science in Nursing program.
Using geo-targeted mobile advertising, we echoed outdoor signage placed strategically throughout the Houston market. The billboard messaging brought brand awareness to key target neighborhoods for higher education messaging while the mobile advertisements further drew viewers' attention and actions.
As a result of our campaign, the University of Houston College of Nursing experienced record high RSVPs for the BSN information session and Master of Science in Nursing program enrollment.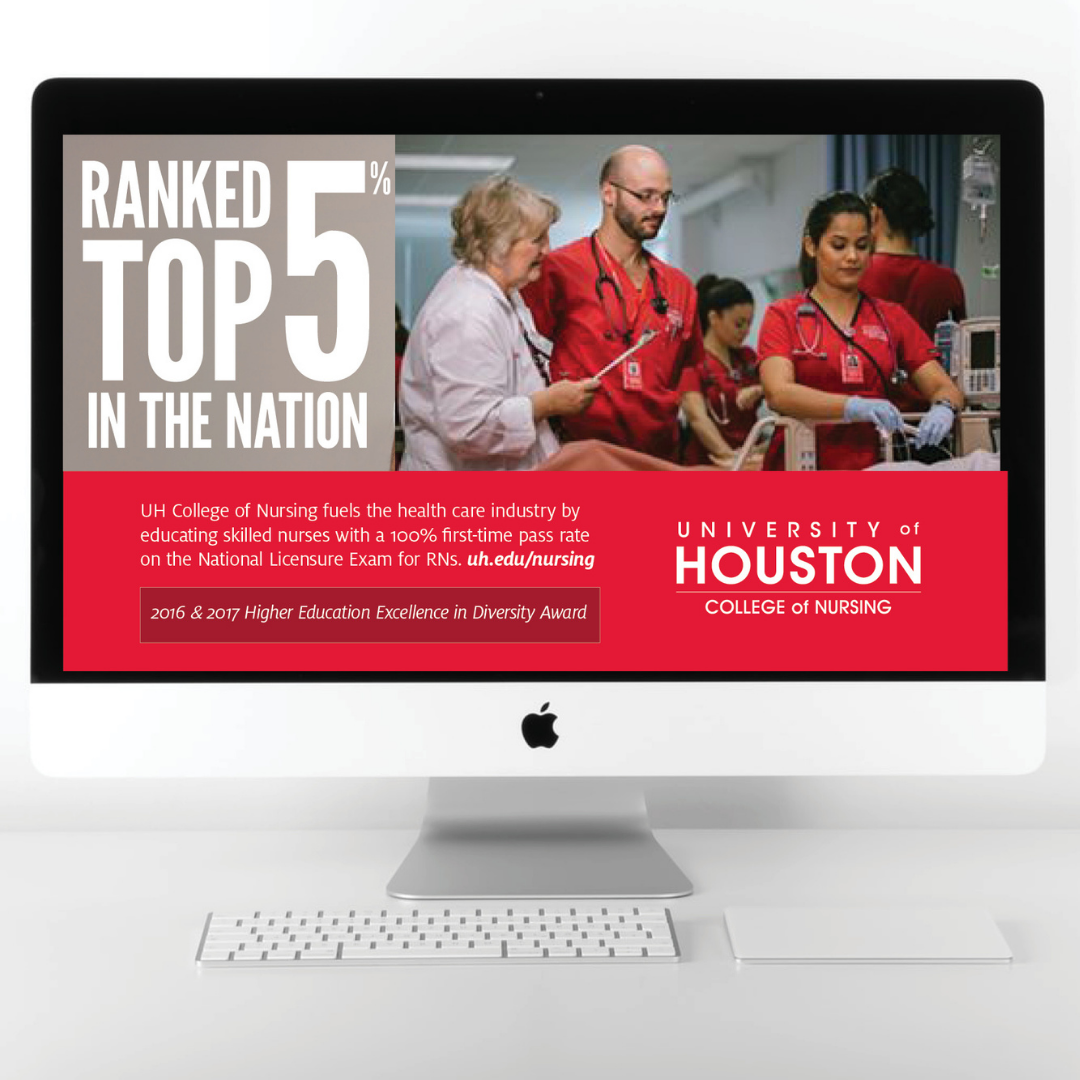 Ridesharing company Lyft wanted to raise awareness of their ride services and to increase driver applications in new markets throughout the U.S.
To achieve this goal, we devised an in-market strategy designed to reach those most likely to use the Lyft app, the college demographic. Our brand awareness and recruitment campaign was custom created to reach the target audience where they live, eat, study, and play.
High impact, large format signage and posters were placed at local colleges in the major Designated Market Areas (DMAs) where Lyft was new to market. We utilized every large format outdoor and on campus signage option offered, including bus shelters, transit routes, and kiosks. We also incorporated digital ads where appropriate, extending our reach and amplifying our traditional media efforts.
This national campus advertising campaign helped establish the Lyft brand in all targeted communities. The overall impact of the campaign exceeded expectations. We succeeded in delivering brand reach to college students throughout the United States with hundreds of millions of impressions.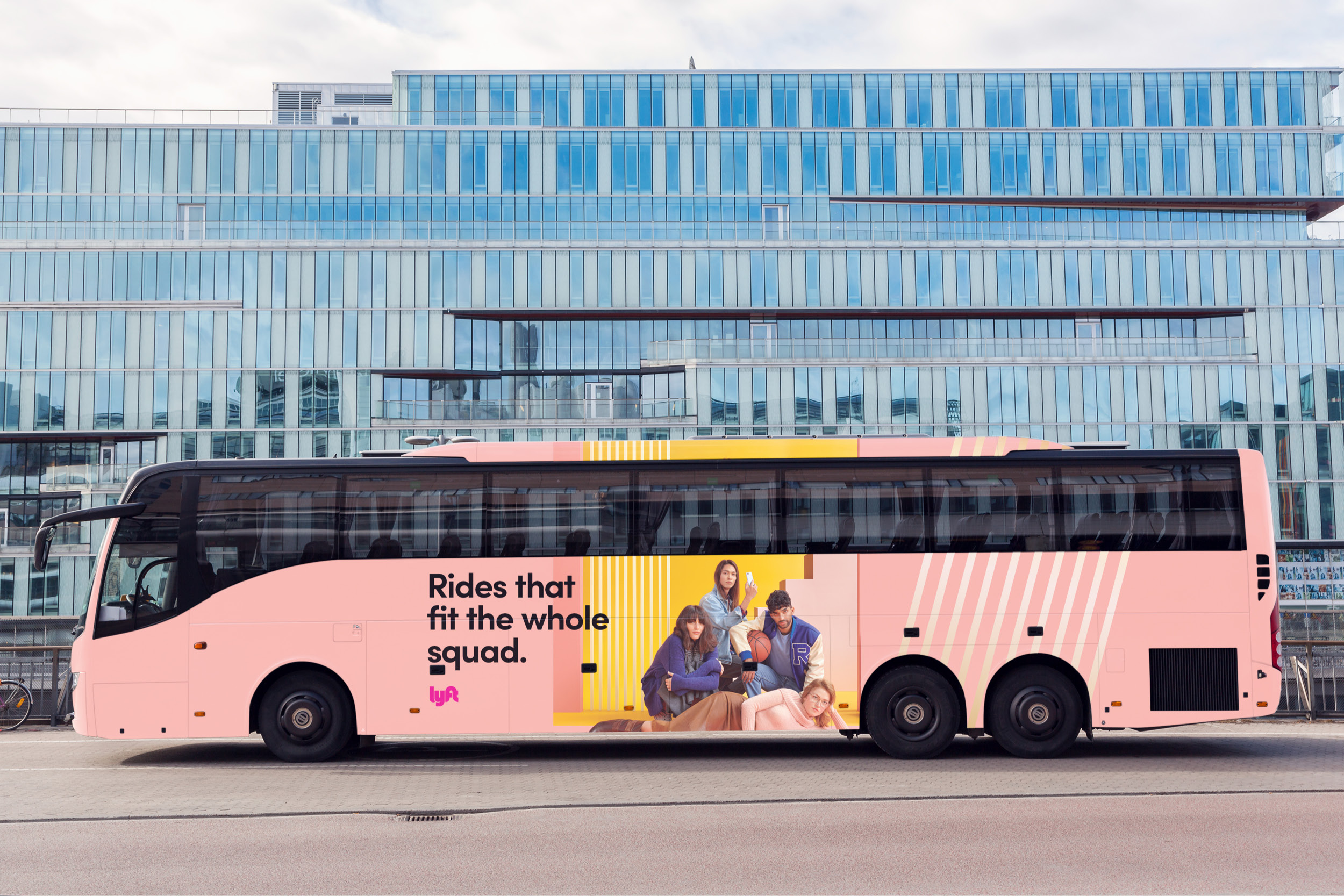 Greystar's SoCam 290 property wanted to bring awareness to their extensive renovations, drive traffic to their website, and increase leasing applications. For this they needed a marketing strategy more effective than on-premise signs.
To maximize exposure among local students, SoCam 290 utilized one of the largest campus transit systems in the United States to execute a 5-month branding and awareness campaign at peak leasing season. By coupling transit advertising with in-app mobile proximity targeting, we maximized their exposure to the target audience.
This university advertising campaign delivered over two million mobile impressions, more than 14,000 clicks, and over eight million impressions via transit advertising. Leasing applications rose above the previous year's benchmark and continue at higher levels even after campaign conclusion.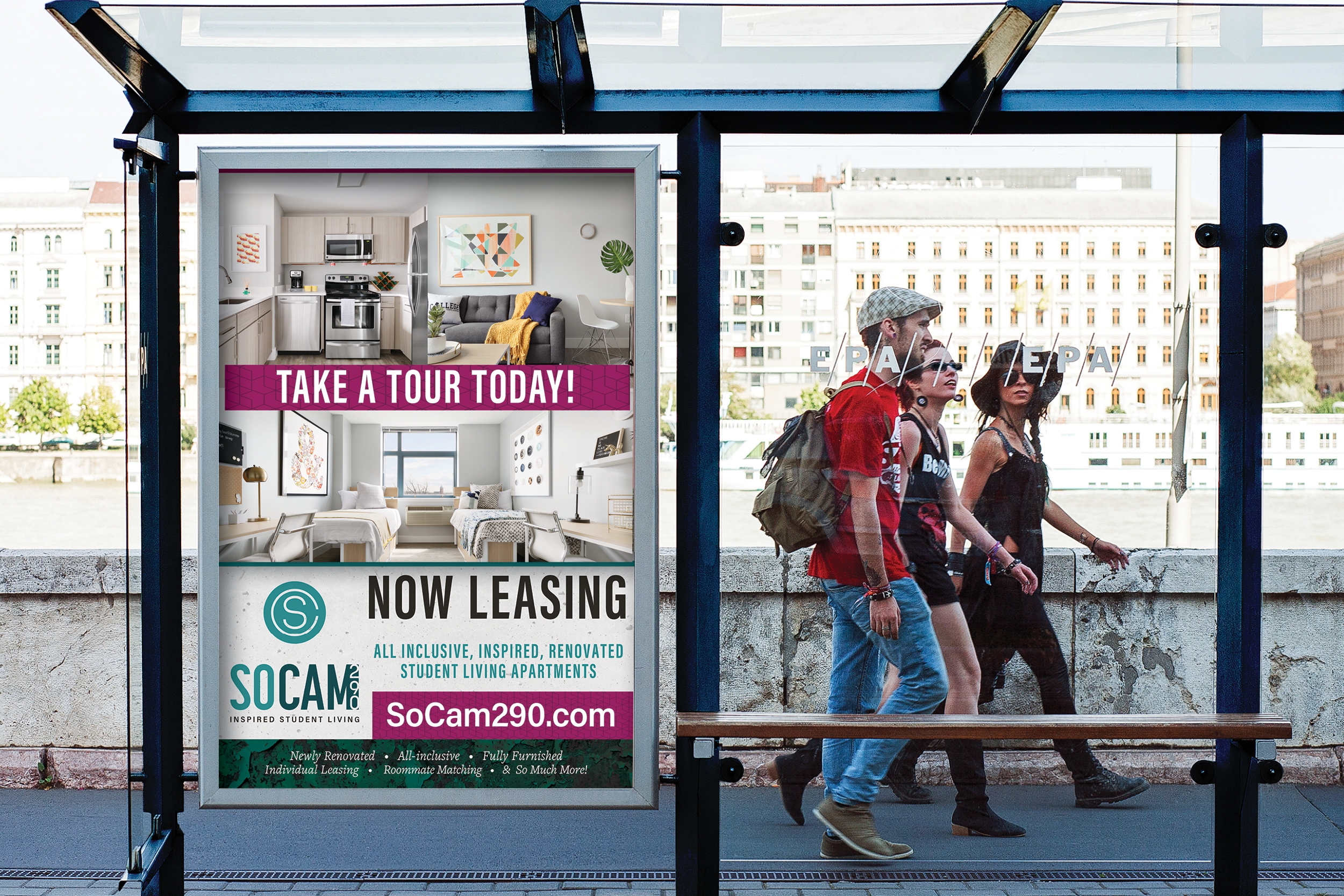 Ready to run your own successful integrated campus media campaign?
Looking for more information on how to run a successful campus media campaign? See our complete guide to advertising to university students.
Here at MSS Media, Inc., we've been providing Education, Government, Real Estate & Lifestyle clients with succinct, optimized, and successful marketing solutions for more than 15 years. Consider MSS Media, Inc. a full-service, one-stop shop for all your Media and Public Relations needs. Your goals are our motivation. And our mission is to propel your message, further and faster, to achieve the outcomes you're looking for. If you found this blog post helpful, please share!
+

BE IN THE KNOW
We deliver the latest media tips + insider marketing advice straight to your inbox.